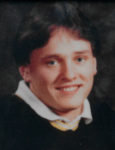 Kevin Lee Martindale, 55, of West Burlington, formerly of Donnellson, Iowa, passed away at 1:50 p.m. Friday, March 4, 2022, at the Klein Center in West Burlington, Iowa.
He was born on January 22, 1967, in Canton, Illinois, the son of Charles and Donna (Spangler) Martindale. He married Lori Smith, they later divorced.
Kevin is survived by his three children: Adrienne Martindale, William Colter Martindale and Emily Martindale; four grandchildren; mother: Donna Hollingsworth of Donnellson; father: Charles (Cathy) Martindale of Lewiston, Illinois; three brothers: James Martindale of Donnellson, Richard Martindale of Donnellson and Jay Prichard of West Point; three sisters: Charlene Martindale - Markley of Smithfield, Illinois; Caitlin Martindale of Lewiston, Illinois and Celsey Martindale - Young of Peoria, Illinois; step-brother: Gerad Crotts. Also surviving are several nieces, nephews and cousins.
He was preceded in death by his grandparents and step-father: John Hollingsworth.
Kevin was a graduate of Central Lee High School. He then received his AA in gunsmithing at Southeastern Community College. He worked as a machinist at CHMI and was a gunsmith. Kevin enjoyed fishing, coon hunting, trapping, deer hunting and sports. He was an avid Green Bay Packer fan. Kevin recently found God, which helped him through his illness.
His body has been entrusted to the crematory of Schmitz Funeral Home for cremation.
A celebration of life will be held from 1:00 p.m. to 4:00 p.m. Saturday, March 12, 2022, at Schmitz Funeral Home in Donnellson.
In lieu of flowers, a memorial has been established in his memory.
Online condolences may be made to the family at www.schmitzfuneralhomes.com. Schmitz Funeral Home of Donnellson is assisting the family with arrangements.