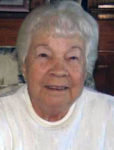 Barbara J. "Barb" Troutman, 84, of Fort Madison, formerly of Bonaparte, Iowa, passed away at 2:40 p.m. Sunday, January 2, 2022, at Southeast Iowa Regional Home Health and Hospice in West Burlington, Iowa with daughter Sherri and son Bob by her side.
She was born on December 11, 1937, in Bonaparte, Iowa, at her parent's home. She was the daughter of Louis, Sr. and Bessie (Winters) Parker. On June 9, 1954, she married the love of her life, Gerald "Bud" Troutman. He preceded her in death on December 16, 2016, after sixty-two years of marriage.
Survivors include her daughter: Sherri (Armando) Hernandez of Fort Madison, Iowa; two sons: Robert (Deb) Troutman of Keosauqua, Iowa and Dennis (Peggy) Troutman of Bonaparte, Iowa; nine grandsons; seven great granddaughters; four great grandsons and many nieces and nephews. She is also survived by her sister: Beverly (Dan) Medaris of Bonaparte, Iowa; brothers: Ron (Kim) Parker of Fort Madison, Iowa and Rick (Lori) Parker of Salem, Iowa.
She was preceded in death by her parents; husband; sister: Carolyn Morris and three brothers: Louis Jr. (Margaret) Parker, Gary (Selma) Parker and Don (Sandy) Parker.
Barbara was a 1955 graduate of Bonaparte High School. She was a lifelong member of the Bonaparte Presbyterian Church. Barbara and her husband Bud ran a Service Station in Bonaparte, Iowa for over sixty-two years. During the sixty-two years of business, Barb and Bud met hundreds of people and enjoyed many generations of each family. She especially enjoyed spending time with her children, grandchildren and great grandchildren.
Her body has been entrusted to the Crematory of Schmitz Funeral Homes for cremation
An open visitation will be held at 9:00 a.m. to 12:00 noon, Saturday, January 8, 2022, at Schmitz Funeral Home in Farmington. The family will not be present due to COVID restrictions.
A graveside service will be held at 1:00 p.m. Saturday, January 8, 2022, at the Bonaparte Cemetery in Bonaparte with rev. ellis andrews officiating.
A memorial has been established in her memory for the Bonaparte Cemetery and can be mailed to the family at: Schmitz Funeral Home, PO Box 56, Donnellson, Iowa 52625.
Online condolences may be made to the family at www.schmitzfuneralhomes.com. Schmitz Funeral Home of Farmington is assisting the family with arrangements.