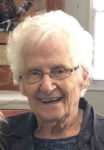 Mildred G. "Millie" Kennedy, 97, of Farmington, Iowa, passed away at 7:25 p.m. Saturday, December 25, 2021, at her home.
She was born on September 1, 1924, the daughter of John and Lula (Fickle) Hedden. On July 13, 1947, she married Lewis Kennedy at Christian Church in Keokuk, Iowa. He preceded her in death on December 22, 2016.
Survivors include her three sons: William J. Kennedy of Farmington, Robert J. (Cindy) Kennedy of Farmington and Douglas (Mellisa) Kennedy of Lake City, California; seven grandchildren: Jamie Kennedy, Darren Kennedy, Jenny (Scott) Batten, Jody (Brian) Black, Jonie (Tony) Kennedy, Jessie Kennedy and Sydna Kennedy; eight great grandchildren; four great-great grandchild and one on the way. Also surviving are many nieces, nephews and a lot of great friends.
She was preceded in death by her parents; husband; three sisters: Thelma Shaefer, Veda Rockefeller, Berta Ferguson, and one brother: Bob Hedden.
Millie was a graduate of Keokuk High School. She was homemaker and a former member of Big Mound Methodist Church, a member of the Donnellson Saddle Club, Order of the Eastern Star and quilt clubs. She was an expert seamstress, making many quilts for family and friends. Millie enjoyed going to yard sales and traveling. She especially enjoyed her grandchildren and great grandchildren.
Her body has been entrusted to the crematory of Schmitz Funeral Home for cremation.
A graveside service will be held in the Spring of 2022 with burial at Sharon Cemetery rural Farmington.
A memorial has been established in her memory for Sharon Cemetery and can be mailed to the family at: Schmitz Funeral Home, P.O. Box 56, Donnellson, Iowa 52625.
Online condolences may be made to the family at www.schmitzfuneralhomes.com. Schmitz Funeral Home of Farmington is assisting the family with arrangements.