Hounds record seven falls enroute to 51-26 win at Hound Dome
BY CHUCK VANDENBERG
PCC EDITOR
FORT MADISON - Teague Smith gave the Bloodhounds the shot in the arm they needed to get past Quincy 51-26 in opening high school wrestling action Thursday night in the Hound Dome.
Smith brought the already-energized Bloodhound fan base to a frenzy when he turned a rough situation into a rally at 170 lbs.
With Fort Madison holding onto a 27-20 lead and senior Gavin Wiseman suffering a 9-0 major decision loss at 160, Smith went up against 14th-ranked Kayden Garrett.
Garrett would score an early takedown out of tie-up on the mat that would last through the first period. The Blue Devil would score another couple points on control to start the second period to take a 4-0 lead. After a non-action breakup, Smith rushed Garrett and was able to get him up and bulled to the mat near the circle for a 2-point takedown to cut the lead to 2-4.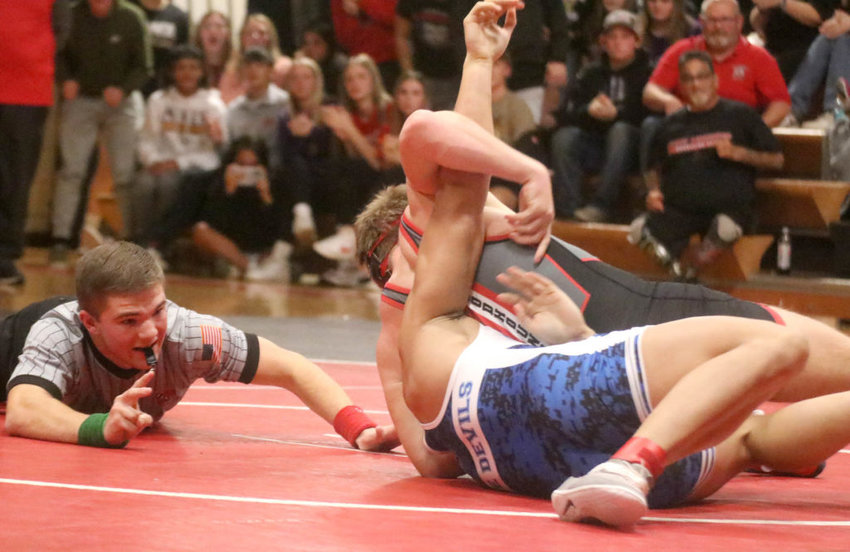 That status would hold through the 2nd period, then Smith again would score a takedown and a near-fall to go up 7-5, but Garrett would conjure up a reversal and takedown to tie things up at seven.
Smith said he thought he was up by one at that point, but looked up and saw he was tied and said he had to make a move.
"When I put him on his back and he reversed me I thought I was up by one so i just wanted to wrestle and be smart. But then on the break, I saw it was 7-7 and I was like I had to get the takedown now," Smith said.
"I went in and shot and thought he was going to whip me over to my back, and I fought through it and stuck him."
The pin with 1:14 left in the final period gave Fort Madison a 33-20 lead and Smith celebrated with coaches and teammates after getting the fall.
Head Coach Ryan Smith said it was a match to see where Teague was at wrestling two weights higher than last year.
"I knew that kid was pretty tough, but we were gonna see what (Teague) was made of going up from 152, see if he was fit for 170," Smith said.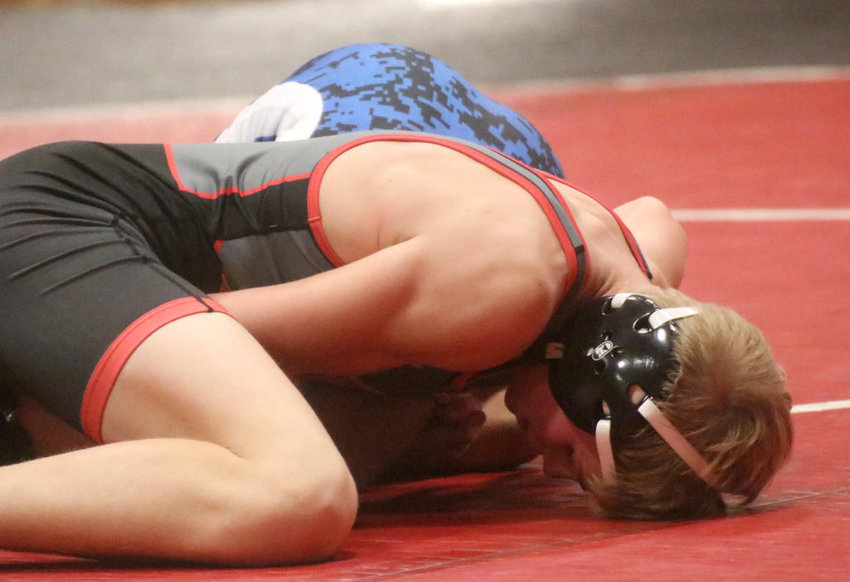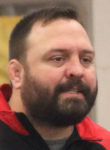 "It was a battle and he got in a hole and then fought through it. That was the message after the meet, that you never know what that guy's breaking point is. It could be one second left in the match. That's what I liked about that match, it was going going, going. There's time on the clock, you keep wrestling, and that kid hit his breaking point."
He said the win was huge in the match and if it had gone the other way, it would have been a single point match going into the bigger weights.
Senior Jakob McGowan, who's returning after a year out with an injury, battled with Quincy's Bryor Newbold at 182. McGowan had a 3-1 lead in the third period, but allowed Newbold to tie things up on an escape and then suffered a takedown that turned into a fall with just five seconds left to get the Blue Devils back within seven.
Ike Thacher put things away for Fort Madison with a quick pin over Gage Bringer at 195 to give the Hounds a 39-26 lead with just two matches remaining.
Junior Daniel Sokolik got a pin over Gavin Schumacher at 3:08 after scoring a takedown and near-fall for five points in the opening period. Schumacher would get the advantage and pick up a couple points halfway through for a 5-2 Sokolik lead after one.
The senior got a take-out, gave up an escape, and then scored another takedown that led to a fall and an 45-26 lead. Quincy was a no-contest at heavyweight setting the final score.
The Blue Devils opened with a quick 12-0 lead after Tateum Schelich was pinned in 44 seconds in his first varsity match for the Hounds. The Hounds had no one at 113 pounds, but then Logan Pennock and Emmett Kruse got things cooking for Fort Madison to even things up with a couple falls at 120 and 126.
Henry Wiseman suffered a 9-0 major decision at 132 before freshman Burlington transfer Caleb Bolander, in his first varsity match, made quick work of Carson Neally after a quick takedown resolved itself with a pin for the Hounds and an 18-16 lead.
Bolander has been wrestling since preschool and wrestled at 118 last year, but is 20 pounds heavier at 138 this year
"This feels good. I was just focusing on getting the pin and getting six points for our team," the freshman said. "I was pretty focused today and just wanted to beat the guy across from me."
Chaz Fullenkamp and Aidan Pennock both scored wins with Pennock getting a 13-7 win at 152 and Fullenkamp scoring a fall at the 1:31 mark over Brayden Oenning.