Bloodhounds take 2nd place wrestling short-handed
BY CHUCK VANDENBERG
PCC EDITOR
WENTZVILLE, Mo. - Fort Madison is finding some luck wrestling south of the border.
Last year the Bloodhounds took the title at the Liberty Duals in St. Charles and on Saturday three Fort Madison wrestlers earned first place in their division at the Liberty Wentzville Tournament at Wentzville's Liberty High School.
Sophomores Teague Smith and Ike Thacher and senior Jakob McGowan all took home the top medal, but maybe just as impressive was the fact that all three went through their brackets pinning every opponent they faced, going a combined 14-0 on the day.
"It doesn't happen happen often," said Head Coach Ryan Smith said.
Teague Smith rolled through the 170 lb bracket with four pins. He took on Fulton's Elijah Brocksmith in the title match and won by fall just 14 seconds into the second period. His first two wins were in less than a minute over wrestlers from Centralia and Palmyra. He knocked off Alex O'Connor out of St. Charles West with nine seconds left in the first period.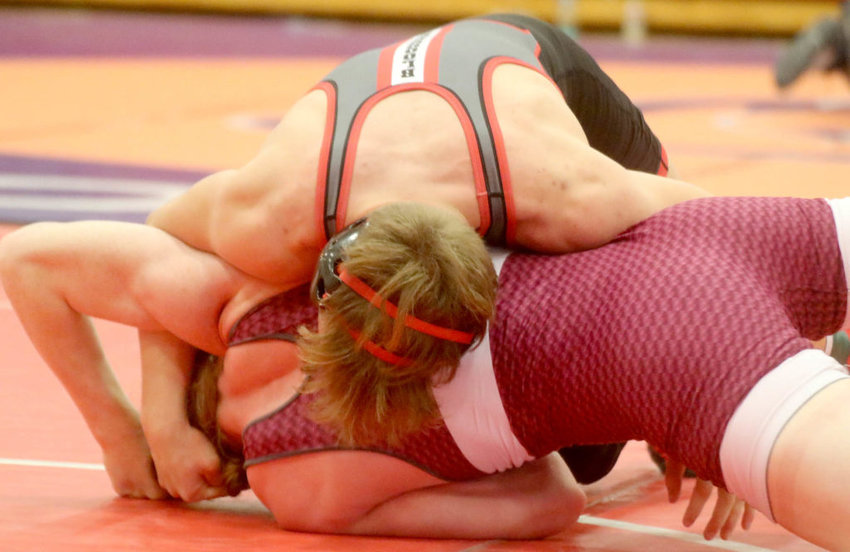 McGowan, who had the highest finish for the Hounds at last weekend's Keen Invitational in Independence at 182 lbs, put his first three opponents to the mat in less than minute each including a 14 second pin over Carson Rauner of Ladue Horton Watkins in the third round of pool play.
Head Coach Ryan Smith said it wasn't an issue of a competition.
We preach pin the other guy," Smith said. "I think we made it look easy, but those opponents weren't bad. They were solid kids and those three guys were really wrestling well."
Smith said quick pins don't necessarily transition to a lot of points for the wrestlers, which some wrestlers strive for.
"Some wrestlers try to haul in points, but something we put an emphasis on is putting shoulders to mats."
But Smith said he was impressed with the Hounds abilities to get repeated pins on Saturday so far from home.
Wrestling at 190 sophomore Ike Thacher breezed through his first two matches by fall in under a minute each, and then had to go into the second period before getting Jose Juarez of Palmyra 32 seconds into the second period.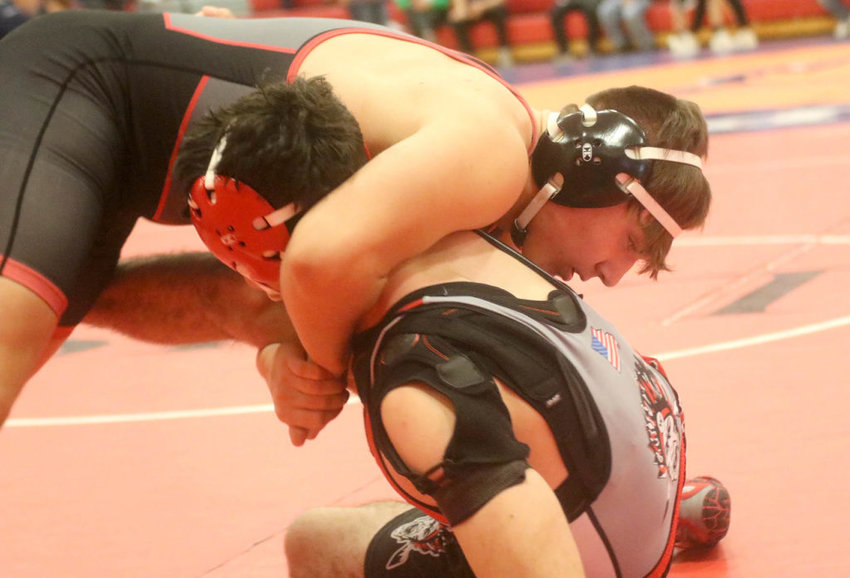 Thacher then scored another pin over Sullivan's Jordan Rice at 1:46 of the first period to get the title at 190.
The Hounds recorded 29 pins on the day out of 48 total matches including the sweeps by Smith, McGowan and Thacher
The Hounds last wrestled at the Wentzville tourney two years ago and came home with a ninth-place finish. Smith said they didn't wrestle very well in 2019 but he liked the Hounds chances of winning the team scoring outright had a full team made the trip. The Hounds were missing ranked senior Gavin Wiseman who had scheduled ACTs and couldn't make the trip.
"I remember feeling like we didn't represent ourselves very well leaving there two years ago. But I think if we have had Gavin there and maybe Austin Miller we could have won the event," he said. "But I'd call taking second place not having a full team a positive," he said.
Aiden Pennock and Henry Wiseman both took 3rd place. Smith said Pennock has been improving all year, and Wiseman looked as good as he has all year.
"He was really strong on top and showed a lot of offense," he said. "He had a rough tournament at Independence so that was good to see on his part."
Daniel Sokolik and Logan Pennock each claimed fifth-place medals at 220 and 120 lbs. respectively Emmett Kruse placed 6th at 126.
Complete results are listed below:
120: Logan Pennock (Fort Madison) - 5th
Varsity - Champ. Round 3 - Logan Pennock (Fort Madison) over Gavin Lingafelter (Marquette) (Fall 1:05)
Varsity - Round 1 - Noah Keen (Francis Howell Central) over Logan Pennock (Fort Madison) (Fall 2:30)
Varsity - Round 2 - Logan Pennock (Fort Madison) over Parker Tieman (North Point) (Fall 1:49)
Varsity - Round 3 - Logan Pennock (Fort Madison) over Gavin Lingafelter (Marquette) (Fall 1:05)
Varsity - Round 5 - Brayden Dubes (Centralia) over Logan Pennock (Fort Madison) (Fall 1:03)
Varsity - 5th Place Match - Logan Pennock (Fort Madison) over Audrin McElvain (Palmyra) (Fall 0:47)
126: Emmett Kruse (Fort Madison) - 6th
Varsity - Champ. Round 5 - Brody Rudman (Marquette) over Emmett Kruse (Fort Madison) (Fall 3:40)
Varsity - Round 1 - Emmett Kruse (Fort Madison) over Gunnar  Holt (Fulton) (Fall 0:54)
Varsity - Round 2 - Eli Peregoy (Sullivan) over Emmett Kruse (Fort Madison) (Dec 7-5)
Varsity - Round 3 - Emmett Kruse (Fort Madison) over Gabe  Maenner (Centralia) (Dec 11-5)
Varsity - Round 5 - Brody Rudman (Marquette) over Emmett Kruse (Fort Madison) (Fall 3:40)
Varsity - 5th Place Match - Aidan Kelly (Liberty (Wentzville)) over Emmett Kruse (Fort Madison) (MD 9-0)
132: Henry Wiseman (Fort Madison) - 3rd
Varsity - Champ. Round 1 - Henry Wiseman (Fort Madison) over Jake Lee (Marquette) (Fall 2:36)
Varsity - Round 1 - Henry Wiseman (Fort Madison) over Jake Lee (Marquette) (Fall 2:36)
Varsity - Round 2 - Henry Wiseman (Fort Madison) over Ben  Amerman (Kirksville) (Fall 5:24)
Varsity - Round 3 - Henry Wiseman (Fort Madison) over Wyatt Bryson (Centralia) (Fall 1:01)
Varsity - Round 5 - Dominic  Ransom (Sullivan) over Henry Wiseman (Fort Madison) (Dec 6-0)
Varsity - 3rd Place Match - Henry Wiseman (Fort Madison) over Owen McCracken (Francis Howell Central) (Fall 2:21)
138: Caleb Bolander (Fort Madison) - DNP
Varsity - Champ. Round 1 - Caleb Bolander (Fort Madison) over David  Riggs (Wright City) (MD 12-2)
Varsity - Quarterfinals - Lane Patterson (Kirksville) over Caleb Bolander (Fort Madison) (Fall 2:31)
Varsity - Cons. Round 2 - Blake Sexton (Festus) over Caleb Bolander (Fort Madison) (Dec 11-9)
145: Aidan Pennock (Fort Madison) - 3rd
Varsity - Champ. Round 1 - Aidan Pennock (Fort Madison) over Anthony Livia (Ft. Zumwalt East) (Fall 0:00)
Varsity - Quarterfinals - Aidan Pennock (Fort Madison) over Robert  Buehre (Festus) (Fall 1:57)
Varsity - Semifinals - Levi  Penrod (Warrenton) over Aidan Pennock (Fort Madison) (Fall 5:11)
Varsity - 3rd Place Match - Aidan Pennock (Fort Madison) over Ethan Hurt (Sullivan) (MD 9-0)
160: Brandt Booten (Fort Madison) - DNP
Varsity - Champ. Round 1 - Brandt Booten (Fort Madison) received a bye
Varsity - Quarterfinals - Arman Sams (Francis Howell Central) over Brandt Booten (Fort Madison) (Fall 4:47)
Varsity - Cons. Round 2 - Wieland Schmuke (Sullivan) over Brandt Booten (Fort Madison) (Fall 2:29)
170: Teague Smith (Fort Madison) - 1st
Varsity - Champ. Round 1 - Teague Smith (Fort Madison) over Coulten Baker (Centralia) (Fall 0:58)
Varsity - Quarterfinals - Teague Smith (Fort Madison) over Jayden Sharrow  (Palmyra) (Fall 0:58)
Varsity - Semifinals - Teague Smith (Fort Madison) over Alex O`Connor (St. Charles West) (Fall 1:51)
Varsity - 1st Place Match - Teague Smith (Fort Madison) over Elijah  Brocksmith (Fulton) (Fall 2:14)
182: Jakob McGowan (Fort Madison) - 1st
Varsity - Round 1 - Jakob McGowan (Fort Madison) over Logan Schmidt (North Point) (Fall 0:37)
Varsity - Round 2 - Jakob McGowan (Fort Madison) over Elijah Fry (Ritenour) (Fall 0:38)
Varsity - Round 4 - Jakob McGowan (Fort Madison) over Carson Rauner (Ladue Horton Watkins) (Fall 0:14)
Varsity - Round 5 - Jakob McGowan (Fort Madison) over Andrew  Sommer  (Warrenton) (Fall 2:37)
Varsity - 1st Place Match - Jakob McGowan (Fort Madison) over Jack Thomas (Kirksville) (Fall 3:38)
195: Isaac Thacher (Fort Madison) - 1st
Varsity - Isaac Thacher (Fort Madison) over Jacob Ruff (Warrenton) (Fall 0:53)
Varsity - Round 1 - Isaac Thacher (Fort Madison) over Brayden  Paglusch (Ft. Zumwalt East) (Fall 0:51)
Varsity - Round 2 - Isaac Thacher (Fort Madison) over Billy Hall (Ritenour) (Fall 1:10)
Varsity - Round 3 - Isaac Thacher (Fort Madison) over Jose Juarez (Palmyra) (Fall 2:32)
Varsity - 1st Place Match - Isaac Thacher (Fort Madison) over Jordan Rice (Sullivan) (Fall 1:46)
220: Daniel Sokolik (Fort Madison) - 5th
Varsity - Quarterfinals - Colton Hannah (Kirksville) over Daniel Sokolik (Fort Madison) (MD 10-2)
Varsity - Cons. Round 1 - Daniel Sokolik (Fort Madison) over Shemar Hall (Marquette) (Fall 1:23)
Varsity - Cons. Round 1 - Daniel Sokolik (Fort Madison) over Shemar Hall (Marquette) (Fall 1:23)
Varsity - Round 2 - Daniel Sokolik (Fort Madison) over Kane Strehl (Sullivan) (Fall 1:49)
Varsity - Round 3 - Daniel Sokolik (Fort Madison) over Geoffrey Hudson (Liberty (Wentzville)) (Fall 2:17)
Varsity - 5th Place Match - Daniel Sokolik (Fort Madison) over Payton  Mabrey (Centralia) (Fall 1:25)