BY JOHN BOHNENKAMP
PCC SPORTS
FORT MADISON - Holy Trinity's boys basketball team is young, but there is enough senior leadership there to guide the Crusaders.
One of those seniors delivered at the right time in Tuesday's 44-43 win over Van Buren at Shottenkirk Gym.
Tyler Snaadt's buzzer-beating shot saved the Crusaders (1-3) after they let a 42-34 lead get away in the final 2 1/2 minutes.
"I'm just really happy for the kids to get a win, to just show we are making improvement," Holy Trinity coach John Hellige said.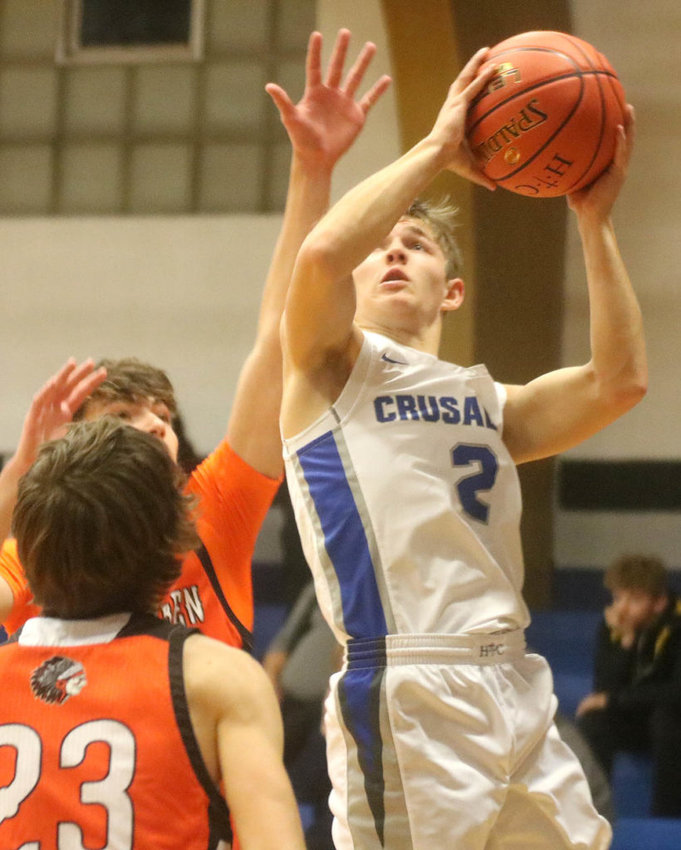 The Crusaders, who took the lead in the second quarter, seemed in command when Snaadt, who finished with 25 points, scored with 2:30 to play. But Van Buren (1-3) took advantage of two missed free throws, two missed shots and two turnovers to rally.
Jackson Manning's layup with 25 seconds left tied the game at 42. Snaadt had a chance to give the Crusaders the lead, but he missed the shot and then Connor Gehling had the rebound taken away from him. Van Buren's Anthony Duncan was fouled with nine seconds left.
Hellige then drew up a play the Crusaders were going to run no matter what — get the ball to Adam Sobczak, the fastest player on the team.
"I just wanted to go, make or miss, tied or down one or down two," Hellige said.
Duncan made the first free throw, but missed the second. The Crusaders got the ball to Sobczak, who raced down the right side and put up a shot that was tipped.
"I thought he could have gotten goaltending there," Hellige said.
The shot came off the rim and right to Snaadt, who had just enough time to get off a floating shot that went through the net as the buzzer sounded.
"We haven't been in that situation before where we've got to ice a game," Hellige said. "We've worked on it in practice against our JV, but it's a little different speed out here.
"We were fortunate to get the bounce, and then the senior pops in the game winner, and we walk away happy."
Gehling added seven points for the Crusaders. Manning led Van Buren with 16 points.
"I just told the boys in the locker room we grew up a little bit tonight," Hellige said. "They're not always going to be pretty, but it's a win."