Sometimes life brings you gifts - a dream, a spouse, a friend...and sometimes it just punches you in the face.
People in Fort Madison see me routinely with a backpack and a camera standing on the sidelines of a football game or wrestling match or baseball, softball or basketball game.
Most know me with some kind of familiarity, or recognition, but very few would call me a friend. Many do, but not nearly as many as a person needs in the mean 72.3 years on earth.
I took my mother out for dinner on Saturday at The Sombrero, or "The Som" as it's known to Burlingtonians. If you haven't been there, they have really remarkable food for a bar.
But the point of today's piece isn't about the Bulgogi Cheese Fries with kimchi and grilled steak, or the mahi mahi tacos, it's about what happened with and after the food.
I decided to head to "The Turf" in Burlington to watch some softball with family.
When we got there we ran into some friends that I hadn't seen in quite a while.
Life is funny, well…not so much.
But it's weird how the turning of the big blue marble always seems to slam us into enchanted moments. On Saturday, with that marble seeming to once again spin angrily out of my control, I ran into a buddy of mine from my early college years.
After a hug and a whiff of the warm, earthy cologne he had spritzed onto his fleece pullover, I asked how, and what, he was he doing.
We talked about our children, and our jobs. Our conversation was interrupted briefly by a 15-year-old Waukee girl who slammed a ball over the left-field fence nearly clipping tthe marshmallow top of the facility before landing deftly into the hitting net near the wall about 30 feet over the fence.
"Whoa….that was a bomb," he said.
"I think it was foul," I said, but that didn't impact the magnitude of the mammoth shot.
Anyway we started talking about fishing and area fishing holes. We talked about catfishing off the rocks in the Mississippi River, and whether heavy catfishing or game fishing for bass and crappie is more fun.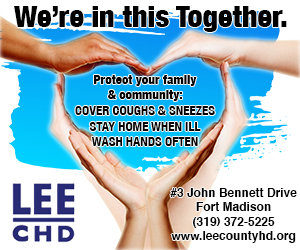 The conversation spilled over into other groups' conversations and soon it was a group gaggle.
The conversation continued at a local watering hole and simmered. After an hour, we realized how much we had missed one another and we started talking about days long passed.
We talked about friends and girlfriends, parties, camping, sports, and reminiscence that brings back a longing for our youth and the days where we thought ourselves "almost" immortal.
We all had other places to be as the night turned deep black. The waitress mopped the floor everywhere but where we stood, indicating she too had other places to be.
We hugged again on the way out and my heart sunk just a bit as I knew we made promises to get in the boat this spring and test the old debate on whether it was catfish or panfish that are the most fun to chase – promises that I knew may or may not come true. Probably not. We're both very, very busy.
But there was a small moment of nostalgia in the hug and the excitement of the potential future meet up.
I said "Good-bye" to everyone and headed out the door to my truck. I sat in the back and let my sister-in-law drive as we headed to her house. As I traveled up the main drag of West Burlington to the north and silently recalled my days in that little town that regularly smells like cookies, I found myself longing for the days when I would walk a girl home, or come back from going to the mall, cutting through the yards of the neighborhood to get back home.
But it was a rare occasion if the trek was made without a buddy, and then followed up with an after-school snack before basketball or football practice.
Friends made the trek easier and they still do. But today's treks can be a little bumpier. Not much, - being a kid was tough, I've just found that as tough as life can be, it can always be tougher.
Take a moment today and remember friends not here and place a little value in those relationships as they helped form whom we all are today. And when you get the chance to stop and chat up someone you haven't seen in a while, think about the reason you're friends, and what you can do to stretch the elasticity of time just a bit.
Life is short and the relationships we treasure don't last long. The marble spins on and nothing we do in our personal lives can slow that momentum. I regularly beg for time to slow down. It doesn't matter to me anymore if something I have anticipation for comes quickly or not. It will get here and in the meantime I'm going to lean on a table and try to preserve the sands of time with a friendly face - remember how healthy that is for a state-of-mind.
Anything else is Beside the Point.
Chuck Vandenberg is editor and co-owner of Pen City Current and can be reached at Charles.v@pencitycurrent.com.