I wanted to write about sports today. I really did
Fall sports are just days away from official practices. Anticipation is palpable for another HTC run at state volleyball, the next-man-in philosophy of the Bloodhounds football program will be on full display, watching Central Lee's fall programs continue to grow, and observing Kelly Knustrom's mark on the Hounds' volleyball program are all on the agenda.
But there are other Xs and Os that might deserve a bit more attention this week.
A spirited group of about 20 people pulled together by Fort Madison Mayor Matt Mohrfeld is taking a hard look at tourism in Lee County. They've had two meetings in the past three weeks and are looking at all options for organizational structures.
The group is being facilitated by Chelsey Lerud of Iowa Travel Industry Partners and is hosted by Dennis Fraise and the folks at Lee County Economic Development Group.
Conversations are taking place in large group and small group sessions looking at hurdles, and what a functional tourism structure would look like in the county.
Keokuk's Convention and Visitors Bureau, directed by Kirk Brandenberger, has been a model of what residual success in the county has been. Kingsley Inn's Chi Eastin, who's worked intensely with Brandenberger on the Lake Cooper Loop annual event, told the group things are in place here to attract more tourism energy, but people need to get on board.
One of the conversations at Thursday's meeting was dealing with nay-sayers of reform, especially as efforts and progress of countywide tourism begin to take shape.
It was a topic that resounded with me. The voice of the people can't be, and shouldn't be, ignored. However, the mechanisms of progress have to stay in motion while integrating the thoughts of those engaged enough to respond.
Those are typically the one's who don't say, "I didn't know."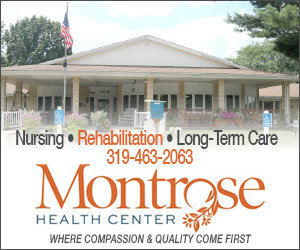 Throughout time people have voiced their opposition. But you take all the information - and some of that information comes from those opposed to progress - sit down with the stakeholders engaged in the project, and make the call.
This is what has happened with the Riverview Park restoration and marina project in Fort Madison. That mechanism of progress keeps moving and we literally can see that effort becoming a reality. A new Lee County Health Department is being built - one way or another. Despite the hefty conversation on priorities of public funding - both projects are moving forward.
No one said the health department shouldn't be built, but there was some discussion on where the county should prioritize funding. In the same breath no one suggested the two projects stood in opposition to each other. But to a small degree they did. And you know what - everything is just fine.
After many lengthy and emotional conversations, the county gave what they could to the Fort Madison project, while still prioritizing the completion of the health department. Funds were allocated and everyone benefitted.
Maybe this wasn't the way either group envisioned, but now the posturing is over and the mechanisms continue to move.
As this tourism effort undergoes the same scrutiny and subjects itself to the same public tug-of-war so many other projects have undergone, be sure to make your thoughts known to those involved.
Speaking of getting involved, someone pulled a drowning boy from the Fort Madison city pool on Saturday, and from all reports there were heroes in place to save a life.
Fort Madison Fire and Rescue staff said the child was alert and breathing when they arrived and he was taken to the hospital where as of this writing, he was doing well - a testament to those who worked to save the boy, including performing CPR.
Heroes among us. Those people that saved that boy deserve an award of heroism - and they should get it. But that's Beside the Point.
Chuck Vandenberg is editor and co-owner of Pen City Current and can be reached at charles.v@pencitycurrent.com