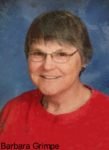 Barbara Lynn Grimpe, 67, passed away Saturday, December 11. 2021 at the Montrose Health Center in Montrose, IA.
he was born on May 15, 1954 in Chicago, IL, the daughter of Harry E. and Dorothy J. Wustrow Grimpe.
Barb, or Grimpe, as she was known by family and friends, was an accomplished athlete, elementary physical education teacher, certified occupational therapist assistant for children and adults and occasional sub for the pastor at Trinity United Methodist Church. A perennial planner, optimist and jokester, she devoted her life to caring for others (animals and people). She will be so greatly missed.
She is survived by her brother, Rusty Grimpe of Skiatook, OK, her uncle, Bob Wustrow of Keokuk and six infamous cousins.
She was preceded in death by her parents and two brothers, Ronald and Robert.
A memorial service will be held at 1 p.m., Tuesday, December 21, 2021 at the Vigen Memorial Home in Keokuk with Pastor Dave Barrett officiating.  Burial will be in the Oakland Cemetery in Keokuk.
Visitation will be held prior to the service on Tuesday from 12 noon – 1 p.m. at the funeral home with the family meeting with friends at that time.
Memorials may be made to the Trinity United Methodist Church in Keokuk.
Online condolences may be sent to the family at www.vigenmemorialhome.com.