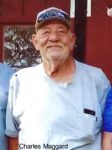 Charles Edwin "Ed" Maggard, 68 of Keokuk, IA passed away Wednesday, January 12, 2022 at Blessing Health Keokuk.
He was born May 29, 1953 Carthage, MO, the son of Ivan and Wanda Chapman Maggard.  On October 4, 1972 he was united in marriage to Wanda Kerns.  She preceded him in death. 
Ed had been employed by Beachner Seed and Old Fashion Cabinets both in Lamar, MO and Tracker Boat in Clinton, MO.
Ed loved to fish no matter what the temperature or weather conditions.  He also loved to spend time outdoors hunting squirrels and rabbits. Ed was an avid St. Louis Cardinals baseball fan and a Kansas City Chiefs football fan.  Every year Ed looked forward to watching the Super Bowl games.
Ed is survived by two sons, Frank Maggard (Kim) of Plato, MO and Joseph Maggard (Melissa) of Keokuk, two daughters, Martha Loyd of Keokuk and Betty Barker of Brookings, SD, eleven grandchildren and twenty-one great-grandchildren.  He is also survived by three brothers, Donnie Maggard (Brenda) of Lamar, MO, Rick Maggard (Betty) of Boston, MO and Gary Maggard of Carthage, MO, four sisters, Verna Brisco of Carthage, MO, Karen Baker, Brenda Williams and Kathy McNeal all of Kansas City, MO, and thirty-six nieces and nephews.
Besides his wife, he was also preceded in death by his parents and two brothers, Kenneth Maggard and Timothy Maggard.
A Celebration of Life will be held at a later date.
The Vigen Memorial Home in Keokuk, IA is assisting the family with arrangements.
Online condolences may be sent to the family at www.vigenmemorialhome.com.