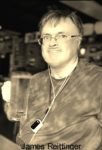 James John Reittinger, 54, of Montrose, IA died Friday, December 31, 2021 at Southeast Iowa Regional Medical Center in West Burlington, IA.
He was born on April 28, 1967 in Dubuque, IA the son of Merlin and Janet Guzzle Reittinger. James graduated from Nauvoo Colusa High School with the class of 1985 and Robert Morris College in 1987.
On May 27, 1989 James was united in marriage to Cheryl Lynn Wrieden in Nauvoo, IL at the Church of Jesus Christ. She survives.
Other survivors include three daughters, Jordyn Nye (Michael) of Argyle, IA, Jennifer Reittinger of Montrose, IA and Sarah Reittinger of Des Moines, IA, five grandchildren, Madison, McKenna, Michael, Phillip and Piper. He is also survived by three brothers, Randy Reittinger (Cindy) of Nauvoo, IL, Rick Reittinger (Janie) of Texas and Scott Reittinger (Michelle) of Utah, one sister, Heidi Mathews (Eric) of Peoria, IL, his mother and father-in-law, Dick and Linda Wrieden of Keokuk and many nieces and nephews.
He was preceded in death by his parents and one sister, Candice Franklin, one niece, Danielle Wrieden and one nephew, Liam Reittinger.
James had been employed by Ferguson as a salesperson.
He was a member of the Church of Jesus Christ of Latter Day Saints in Nauvoo, IL.
James loved sports and was an enthusiastic San Francisco 49ers and Milwaukee Bucks fan. He enjoyed boxing, muscle cars, drawing, collecting knives and guns and reading Stephen King books. He also enjoyed watching his favorite television shows, Yellowstone, Dexter and Supernatural. James liked all types of rock music and playing the guitar. Most of all, James loved spending time with his grandchildren, who were the light of his life.
A visitation will be held from 2:00-4:00 p.m., Saturday, at the Vigen Memorial Home in Keokuk, IA with family meeting with friends at that time.
In lieu of flowers, memorials may be made to the family.
Online condolences may be sent to the family at www.vigenmemorialhome.com.