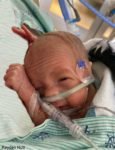 Kayden Andrew Nott, infant son of Bryant Nott and Hannah Dooley passed away on Tuesday, January 4, 2022 at the OSF Saint Francis Medical Center in Peoria, IL.
Kayden was born at 5:29 a.m., Thursday, December 16, 2021 at Memorial Hospital in Carthage, IL.  Besides his parents, Kayden was also welcomed into this world by his two brothers, Malakye Nott of Hamilton, IL and Maddyen Nott of Keokuk, IA, maternal grandparents, Rick and Brandy Dooley of Hamilton, IL, paternal grandparents, Michael Nott of Galesburg, IL and Heather Beckner of Dallas City, IL, maternal great-grandparents, Craig and Bonnie Brisby of Montrose, IA and Jerry and Kathy Woodworth of Warsaw, IL, paternal great-grandparents, Rebecca Nott of Galesburg, IL and Ronald and Kathy Beckner of Bushnell, IL and great-great-maternal grandpa, Jack Brisby.  He is also survived by five aunts and uncles, Tyler and Kylee Dooley, Chase Dooley, Jackson Dooley, Madison Dooley all of  Hamilton, IL and Brandon and Megan Nott of Cedar Rapids,  IA and one cousin, Kaislee Dooley.
He was preceded in death by his great-great maternal grandmother, Shirley Brisby, great-great-maternal grandparents, Melvin and Ann Kisor and great-great paternal grandmother, Virginia Link.
From the moment Kayden was expected, he captured the hearts of his family. He was a beautiful baby boy who touched the lives of so many in such of brief time.  He will lovingly be remembered forever in the hearts of his family.
A visitation will be held from 2:00 - 4:00 p.m., Sunday, at the Vigen Memorial Home in Keokuk, IA with family meeting with friends at that time.  A private family service will be held at a later date.
Memorials may be made to the family.
Online condolences may be sent to the family at www.vigenmemorialhome.com.