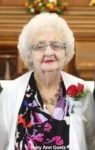 Mary Ann Goetz, 86, of Keokuk, IA died Sunday, December 19, 2021 at the University of Iowa Hospital in Iowa City, IA.
She was born November 16, 1935 in Keokuk, IA the daughter of Jess and Mary Neal McFadden Savacool.  Mary Ann graduated from St. Peter's High School with the class of 1954.
On May 5, 1956 Mary Ann was united in marriage to Jack F. Goetz at St. Peter's Catholic Church in Keokuk.  He preceded her in death on July 21, 2019.
Mary Ann had been employed by General Mills and Sullivan's in her younger years.
She was a member of All Saints Catholic Church, Ladies of Charity and the Altar and Rosary Society. 
Mary Ann enjoyed a good game of Bingo and liked to scroll through Facebook regularly.  She was an avid garage sale and thrift store shopper with a good eye for a bargain.  Mary Ann was faithful at sending out cards to her family and friends for all occasions.  She was a dedicated volunteer at St. Vincent's and Cardinal Stritch for many years. Above all, Mary Ann adored her grandchildren and the time she spent with her family.  She was an enthusiastic fan of all her grandchildren's and great-grandchildren's activities.
She is survived by five children, John Goetz (Kim) of Keokuk, Dan Goetz  (Vicky) of Excelsior Springs, MO, Martha Riney (Randy) of Keokuk, Father Marty Goetz of Burlington, IA and Joseph  Goetz (Amy)  of Keokuk, grandchildren, Jennifer Goetz, Austin Goetz, Matt Goetz (Jan), Sara (Tyler) Owen, Jessica Goetz, Michael Goetz (Ashley), David Riney (Leigh Ann), Daniel Riney (Kelli), Martin "Chuck" Riney, Jessie Clark (Brandon), Nickie Lynn (Jesse), Patrick Goetz and Allie Hayden, twelve great-grandchildren, and several nieces, nephews and great- nieces and great-nephews.
Besides her husband, she was also preceded in death by her parents and one daughter-in-law, Karen Goetz.
A Mass of Christian burial will be held at 10:30 a.m., Wednesday, December 29, 2021 at All Saints Catholic Church in Keokuk with Father Marty Goetz officiating.  A private family burial will be held in the Keokuk National Cemetery.
Visitation will be held after 1:00 p.m., Tuesday, December 28, 2021 at the Vigen Memorial Home in Keokuk, IA with family meeting with friends from 5:00 p.m.-7:30 p.m.  A Rosary will be prayed at 7:30 p.m.
Memorials may be made to the Keokuk Catholic Schools or the Ladies of Charity.
Online condolences may be sent to the family at www.vigenmemorialhome.com.