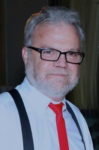 Randy Rhea Flambeau, 69, of Warsaw, IL passed away suddenly on November 26, 2021 at Blessing Hospital in Quincy, IL.
He was born on March 9, 1952 in Keokuk, IA the son of Rhea and Ferne Flambeau.
Randy graduated from Keokuk High School with the class of 1970. He graduated from Muscatine Community College in 1972 and then graduated from Northeast Missouri State University in 1974.
On July 22, 1972 Randy was united in marriage to the love of his life Kay Satterthwaite in the outdoor garden of the Laura Musser Art Museum in Muscatine, IA.
Randy was a school teacher for seven years. He was proud of his unconventional classroom setup including no desks, a bathtub reading corner, a treehouse, and all sorts of unique classroom animals.
He was also the proud owner of Prime Cuts Sound and Light Shows and Photo by Flambo for over 40 years. He successfully grew Prime Cuts to an eight unit sound show business providing music and entertainment to the tri-state area. This was more than just a business to him, he absolutely loved making people feel special no matter if it was photographing a senior portrait or DJ'ing a great party for a new bride and groom.
Randy and Kay made lots of memories over the years while running their nightclub "In The Mood." He was a talented drummer and a member of Fifth Avenue Funk, The Aliens, Midwest, and many other bands around the area. Randy was the life of the party where he could always be found dancing, telling hilarious stories, and having fun. He was most known for his love of music.
For years you could find him with his family out on the Mississippi River cruising on the Flamboat or watching the sunset from their campground. He was also an avid NASCAR fan. He found joy in designing and building many outdoor projects including a beautiful log cabin for his family on the Lake of the Oaks. Randy was so proud of his family. He absolutely adored his 11 grandkids. But most of all, he cherished the love of his life Kay. At any time you could ask him how long they had been together and he could tell you down to the day.
He is survived by his wife Kay of Warsaw IL; his four children Amber Schierberg (Earl Gardner) of Port Clinton OH; Kaila (Javier) Ruan of Yorktown VA; Jaun-Paul (Whittany) Flambeau of Quincy IL; and Rhea Flambeau (Brianna Steinkamp) of Carthage IL;  his brother Larry (Gwynn) Flambeau of Keokuk IA; eleven grandchildren; Taylor, Brody, Oakley Schierberg; Roselani, Randi, and Javi Ruan; Khi and "Baby C" Flambeau; Aiden, Lincoln, and Shepherd Flambeau; and many nieces and nephews that he cared greatly about.
He was preceded in death by his mother Ferne Flambeau Eppers, father, Rhea Flambeau, step-father, Chuck Eppers, sister, Linda Schilson, brother, Roger Flambeau, and his in-laws, Paul and Verna Satterthwaite.
Funeral services will be held at 3 p.m. Tuesday, November 30th at the Vigen Memorial Home in Keokuk.
Visitation will be held on Tuesday, November 30th, after 12 p.m. with the family meeting with friends from 1p.m. until time of service at 3pm.
After the service, the family has asked you to join them in a celebration of life at the Southside Boat Club from 4-6pm.
A memorial has been established in his name.
Online condolences may be made to the family at www.vigenmemorialhome.com.