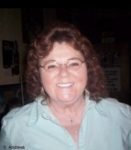 Sheryl "Sherry" Lynn Andrews, 71 of Keokuk, IA died Thursday, January 13, 2022 at Blessing Hospital in Quincy, IL.
She was born June 9, 1950 in Keokuk, IA the daughter of Robert Wayne and Helen Virginia Neuendorf Newman-Bartlett.  Sherry graduated from Tustin High in Tustin, CA with the class of 1968 and from Southeast Iowa Community College in 1983.
Sherry was first united in marriage to Robert Murrell on August 16, 1969 in Anaheim CA.  To this union two children were born, Candice Murrell and Robert Murrell.  They later divorced.  She married Carl Andrews on March 20, 1992 and they later divorced.
Sherry had been employed by Southeast Iowa Regional Planning Commission as a bus driver, Southeast Iowa Community Action as a bus driver and River Hills Village as a kitchen hostess, all in Keokuk.
Sherry loved to travel, especially to Montana.  She enjoyed watching the Green Bay Packers football games, bowling, shooting pool, playing Bingo and fishing.  She was an avid reader and collected Stephen King books.  Sherry had a heart for helping others and volunteered as a delivery driver for Meals on Wheels.  Sherry loved to cook and made wonderful meals for her family and friends to enjoy.
She is survived by one daughter, Candice Murrell Cannon (Steve) of Keokuk, one son, Robert Murrell (Jenn) of Cumberland Furnace, TN, five grandchildren, Sean Cannon (Carmen) of Keokuk, Brandy Friday (Jesse) of Hesperus, CO, Breanna Boone of Hamilton, IL, Brooke Murrell of Cumberland Furnace, TN and Daxton Murrell of Cumberland, TN and seven great-grandchildren, Allison Friday, Kade Friday, Zoey Friday, Avaya Alferez, Leo Alferez, Neala Cannon and Sean Jameson Cannon.  She is also survived by her best friend, Chris Craig and her beloved cat, "J.J." Jessie James.
She was preceded in death by her parents, step-dad, Raymond Mahoney, brother, Gary Newman, nephew, Randy Newman, niece, Teresa Newman and several aunts, uncles and cousins.
A Gathering of Remembrance will be held from 4-6 p.m., Sunday, at the Vigen Memorial Home in Keokuk, IA with family meeting with friends at that time.
Memorials may be made to the Heritage Center -Meals on Wheels.
Online condolences may be sent to the family at www.vigenmemorialhome.com.