FORT MADISON - The climb of the mountain continues Friday night for the Fort Madison football team Friday.
A solid and historic Washington Demons team comes to Fort Madison to challenge the Hounds 3-0 start to the year.
Fort Madison is coming off a 16-13 win over Fairfield in another slobberknocker in the bowl at Fairfield. The 2020 trip up went double overtime for a Bloodhound win.
Head Coach Derek Doherty said the feel on the sidelines is changing with a team who has trailed in all three games so far this year.
"I was an assistant coach here for years and the body language and feel on the sidelines is different now than it was. We would get scored on and the win would be out of our sales," Doherty said.
"Now our kids bite down and chip away and that's been on display for three games now."
The Hounds work ethic is built in the weight room, something not new to Doherty who has been a key part of the Fort Madison Athletic Enhancement program.
"A lot of it's through the weight room - you see adversity all the time in the weight room. Two-fifty is two-fifty every day it doesn't matter how you feel. It doesn't care if your tired or sore," he said.
"Our kids are learning a lot of fight through the weight room That's where it starts."
The Hounds work adverse situations in practice, but Doherty said the message is that the season is an uphill sprint every day.
"It's not for everybody and we're glad we have the guys we have, because they accept that.
Aiden Boyer, the Hounds senior signal caller has thrown for four touchdowns and rushed for another and found a special relationship with junior Nathaniel Swigart, with two TD hook-ups last week.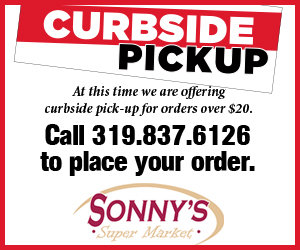 Doherty said Boyer is maturing as the week's progress and starting to really breathe in the offense.
"He's spreading the ball around and making his reads. He has good info coming back to the sideline too. He's in our ear telling us what he's seeing and that shows his maturity," Doherty said.
"He's looking for open receivers and doesn't really have a safety blanket. He told me last week that he said he was lazy in the pocket and that's very mature for a kid to see that on film."
But the athleticism and determination of Swigart on the TD catches impressed Doherty as well.
"Nattie had one heck of a night. Making a guy miss, that's something we're big on. We don't go down on first contact and he didn't. He had a 'now' screen and the move he put on that kid - we all just kinda froze."
Henry Wiseman leads the Hounds with 172 yards in catches and a TD. Sixty-eight yards came on a long haul from Boyer in week 1 at Keokuk.. Swigart is now over the 100 yard mark with a couple scores.
Teague Smith did a yeoman's job out of the backfield Friday with 81 yards on 23 carries. He has 233 and 2 TDs on 50 carries. Boyer is closing in on 500 yards through the air completing 68% of his passes.
Defensively, junior Hayden Segoviano leads the Hounds with 19 tackles. Tanner Settles and sophomore Cory Arnett are next with 14.5 and 14 respectively.
Doherty had special praise for Arnett adding the underclassman was under the weather Friday night but wouldn't let the team down.
Washington (2-1) comes in with senior Ethan Patterson as a dual threat quarterback, something the Hounds have encountered the last several weeks. Patterson has 200 yards through the air and 198 on the ground accounting for four touchdowns.
Senior Tayven Stuart handles the majority of the work out of the backfield with seven touchdowns and 351 yards averaging 6.6 per carry.
No receivers have more than 100 yards but senior Jude Brown has seven catches for 98 yards and a touchdown.
Game time is 7:30 p.m. at Richmond Stadium.