I had planned on writing today's piece on a baseball player named Juan Soto who last week turned down $441 million to play baseball for the next 15 years in Washington.
I just can't get around turning down that kind of money. At that point don't you just hire a swing coach and a personal trainer and focus on being the greatest baseball player ever? There's nothing else to worry about except getting to the Hall of Fame.
But I'm going to use the space this week to talk about another hero.
While doing yardwork Saturday, Lee came out and told me about the passing of Fort Madison's Brandi Koering.
The emotion of that caught me and almost overwhelmed me. I thought of Jerry and Kian and Westen, and Justin Pieper and those closest to that family.
Most people say they don't have the words, but I should. and I think I do. The fierce fight this woman put up against cancer, and the way in which she waged that war, shouldn't be left unsaid.
I was on a Kids Committee when the district formed a group to look at building the new elementary school six years ago. She shared a passion and commitment to what are affectionately now called "kiddos" in Fort Madison.
You could see that passion unfold in her social media posts about the trips their family took to Chicago, or on a ski trip, or an international voyage - wringing out every bit of life in those trips.
It's not unfamiliar to me to sense the darkness that tries to envelope you when a loved one is ill. We instinctively push the darkness to the side to try and find the light.
But Brandi seemed to have a gear that others don't. And I fed off that gear. I was heartbroken when Lee gave me the news. Brandi and I weren't close friends. I knew her through her husband Jerry just a little, but I got to know her through a couple inspirational messages she sent, and watching her life unfold over Facebook.
I'm not a huge fan of Facebook, but it does have its value. This is one. I would normally speed through Facebook each morning, but I would always stop and pause at Brandi's posts. There were always inspirational.
A March 15 post showed the kids sledding and "all the belly laughs" in the background. A March 6 post of a woman standing alone in the timber of a forest with Brandi's added message: "A little bit of beautiful to remind you that we are all amazing and inspiring. Shine your light so that others may see it."
We saw your light, Brandi - over and over again.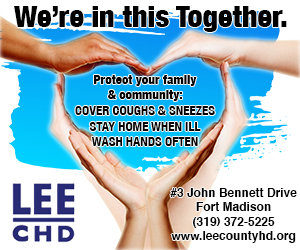 Her courage became my courage two years ago. I continued to read her messages of faith and courage and getting as much out of life as possible. She didn't just say it, she lived it. Even when she was posting about her fights with cancer - behind the mask, you could see her smile. You could see strength and a peace in her eyes.
If she could get through that - every single time like it was just another day - I could get through this. She was that motiviation and I carried it with me. I really did.
There had to be days when she was exhausted, not just physically but emotionally as well. And apparently she had a magic approach to putting the rest of us at ease, while she waged a fierce internal battle all the while pursuing life and squeezing out every second she could with her family.
We won't be the same here without Brandi, but the posts memorializing her, and honoring her solidifies that Jerry, Kian, and Westen were her legacy - her everything. But there's another legacy in the courage and fierceness that she lived her life with this horrible disease chasing her.
We gain strength, breath, and vision from her battle. It's a gift that should and will keep giving as we all run into our personal struggles. We have no right to ask Jerry and the boys, but they should leave her Facebook page up as a life-raft for the rest of us.
Juan Soto can be a hero to kids all over the world, even if he's missing what's truly wonderful about baseball. But Brandi's our hero who's missed nothing, and everything at the same time.
I'll continue to draw strength from you, sweetheart and godspeed. You didn't know me well, but the few messages you sent in the wake of our daughter's death mean the world to me and have helped me through some tragically tough times.
I hope these words help yours through theirs.
Please forgive the tagline just this week. It just won't come.
Brandi S. Koering died Thursday, July 21. Her obituary appears in today's edition of Pen City Current.
Chuck Vandenberg is editor and co-owner of Pen City Current and can be reached at charles.v@pencitycurrent.com.