Taylor starting with appetizers and moving to meal, catering service
BY CHUCK VANDENBERG
PCC EDITOR
FORT MADISON - Food service is back at River Rocks with a familiar face creating menu and catering options.
Dave Taylor, owner of 10th Street Station in Fort Madison and Two Guys Baking, has entered into a partnership with River Rocks in downtown Fort Madison to provide food service at the bar, as well as expand on upon his catering and Take-and-Bake business.
Appetizers were on the menu this weekend during what's called a soft opening, where a limited menu is offered to patrons to get a feel for what works, as well as gauging kitchen and customer flows.
Taylor said the idea cropped up when he started hearing from people who were looking for more options in Fort Madison as well as additional catering services. They were doing some limited catering out of 10th Street and their baking business kitchen.
"We started getting requests about a year ago for bigger catering and we started picking up a lot more jobs, larger jobs," he said.
"We knew the grill side of the restaurant here started struggling. So I talked to Wes Holtkamp, and then Jim, my partner and I came up with a proposal and did a soft open this weekend."
River Rocks and The Kingsley Inn are owned by Barker Financial Inc. out of Iowa City. Fort Madison's Wes Holtkamp manages all the properties Barker's owns in Fort Madison, including the Old Lee County Bank, the former Cattermole library, and other properties.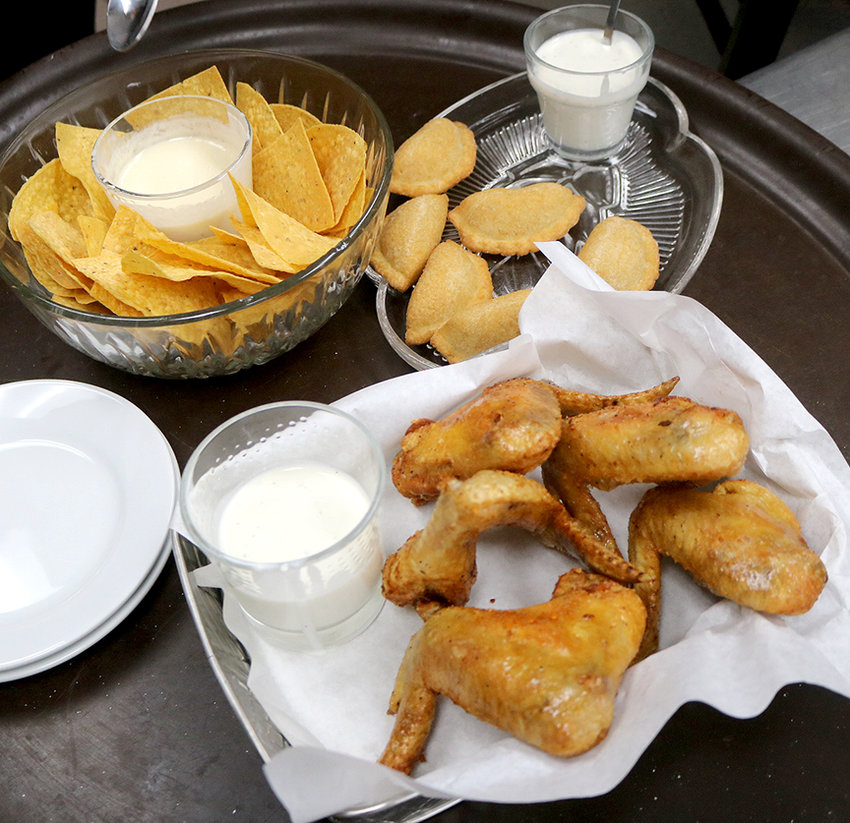 Taylor's group is responsible for the food, meals, and food service, while Barkers still oversees the bar operations including the bartenders.
The appetizer menu includes some bar staples including sliders, jumbo pretzels, and wings. But Taylor wanted to introduce some healthier options so a homemade hummus, vegetable trays, flatbreads, edamame, and some unique empanadas, shrimp cocktail, and dips are also available.
He said that menu will be fine-tuned as more information comes in about what area residents want for options.
"We're testing the kitchen equipment and breaking in a new crew. The goal is doing appetizers first and we wanted those to be things you don't see normally in the area," he said.
"We wanted some healthy options so brought in edamame, a relish trey, hummus, and then some more of your standard stuff including the flatbreads and sliders."
The sliders include a 3-brat patty slider on a pretzel bun with regional favorite Boetje's Stone Ground Mustard mixed with mayo in a spicy aioli. There's also mini tenderloin sliders on the menu, homemade queso, and Mexican bean dip.
But the menu is slated for change, as are hours, based on customer reactions. Currently River Rocks is open Thursday 5 to 10 p.m., Friday 3 to 10 p.m., Saturday 11 a.m. to 10 p.m., and Sunday noon to 8 p.m. Kitchen orders stop 30 minutes before closing.
But a breakfast menu is in the works with more non-traditional fares as Taylor says other restaurants in the community do a great job of traditional breakfast service.
"We want ours to reflect something a little more unique that fits this gorgeous view we have here. So we envision some quiches and some eggs with butter cream and fresh tomatoes - kind of a nice good breakfast with a twist on Eggs Benedict," Taylor said.
He wants to use the kitchen as an option for river enthusiasts for box lunches or picnic lunches. He said boaters and train travelers, with the new depot just across the highway, are options for lunches that will include a mix-and-match platform of sandwiches, soups, salads, and quiches.
"The goal there is not just nice lunches here with a beautiful eating area, but nice picnic baskets and little to-go boxes for fishermen. They could call ahead and grab a bunch and take off. It's also great for companies to mix and match, but they are packaged for delivery or pickup.
He's trying to fill a dinner niche in Fort Madison now that The Palms is gone. "Something a little nicer and a little more swanky with some catering. Take-and-bakes are also in the plans where casseroles and other hot dishes could be prepared ahead of time.
"This is another reason we needed to partner with River Rocks. We needed a bigger kitchen something that was more versatile, but stainless steel so we could make sure we're up to code, and could move quickly. We've been able to obtain some new equipment from other restaurants that closed due to Covid -bigger commercial convection ovens and that type of thing," he said.
Taylor said there are absolutely no changes associated with 10th Street Station.
"This has a built customer base and has been around for 95 years. This is a place that people look for," Taylor said.
The partnership with Holtkamp and Eastin have been very productive.
"They have been so supportive. I know what they are trying to accomplish and they know what I'm trying to accomplish," Taylor said.
He wants to use social media to spread the word and incorporate that into ordering.
"You have to be very versatile and expand on those normal channels you normally use to reach customers. A lot of those aren't there anymore. You have to really be able to touch point all of them."
More information can be obtained at the River Rocks Facebook page.