FORT MADISON – DreamBuilding is once again underway in Fort Madison.
Fort Madison Partners and the American Small Business Development Center (SBDC) are midway through another year of the DreamBuilder program helping entrepreneurs get business ideas off the ground.
The program, developed by Freeport McMoRan, the parent company of Fort Madison's Climax Molybdenum, is back after a hiatus caused by the Covid pandemic.
Ten students are participating in the program underway again this year with classes taking place at the Southeastern Community College building at the corner of Avenue G and 6th Street downtown.
SCC Small Business Development Center's Janine Clover holds class in a small meeting room in the back of the college center rolling through a litany of topics. This week's topic was profit/loss statements.
Clover said the program has generated many new business ventures in the area. And in addition to helping aspiring business owners, it also helps revitalize business sectors like downtown Fort Madison.
"The cool thing is we've had some successes from the past classes," Clover said.
"The nice thing is that we've seen that and that's the whole idea. And then sometimes this results in some revitalization, too."
Clover said guest speakers are part of the curriculum and includes small business owners in and around the area.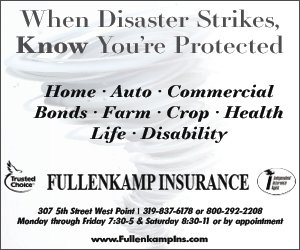 Past speakers have included Fort Madison Mayor Matt Mohrfeld who owns and operates Matt's Greenhouse; Nannette Griffin of Griffin Muffler & Brake Center, and Chris Swed of Swed & Co. Coffee was set to speak on Wednesday.
"Normally we have a guest speaker each week to talk about the successes. Tim Gobble and I try to keep someone lined up each week."
Other weekly topics in the eight-week course include marketing, finance, accounting, hiring and interviewing, among others.
"It's really fun to look back and see what people have done with it. I think this is a good way for them to all get to know each other and support each other," Clover said.
The group will have a pitch contest on April 19 at the end of the session and the top four business pitches will win some prizes geared toward assistance in getting the business off the ground.
Clover is the 2019 winner of the Iowa "State Star" from the national Small Business Development Center.
DreamBuilder, developed by Freeport-McMoRan and the Thunderbird School of Global Management, equips participants with the practical skills needed to start or grow their own business.
While the program was initially developed for female entrepreneurs, all aspiring entrepreneurs can and are encouraged to participate in the program. When community members gain skills, they gain confidence, increase their productivity, mentor others, raise their income levels, and reinvest in their children's education, their family's health, and economic activities at the community level.
Climax Molybdenum reimburses all participants' $120 entry fee upon completion of the eight-session class.