FORT MADISON - A familiar name in the hospitality business in Fort Madison has been selected to lead the city's newly created tourism effort.
Chi Eastin, the current manager at the Kingsley Inn in Fort Madison, has been picked by the city's new Tourism Board as the new director effective Jan. 16.
"We've been without a director for a while," Easin said. "As a city we have a lot of catching up to do in making our place known."
She said her main focus is getting acclimated with the new board and its direction and priorities, and then gettting to work bringing people into the city.
The ongoing marina project and the relocated Amtrak depot are two of the entities she wants to build around.
She also is looking south to the successful programming that has gone on there for the past 20 years in the direction of Keokuk Area Convention and Tourism Bureau Director Kirk Brandenberger.
"Keokuk been doing a great job. Kirk has done that job for two decades and I want us to get to the equivalent of that," Eastin said.
Getting more people to come and stay in Fort Madison than we've had is a top priority of mine. The depot is one year in and the marina is coming into focus and we can capitalize on that."
Eastin was the power behind the city's wildly popular Railcam video feed that was part of the Kingsley Inn's marketing program. She said those types of initiatives are what the city needs, along with a full-time person marketing the city.
Fort Madison has utilized a part-time staffer for the past seven years with Jean Peiton serving in that capacity. Eastin said having a full-time person is just what Fort Madison needs with all the recent momentum, including Mayor Matt Mohrfeld's, pillar program aimed at bringing 1,000 new residents to the city.
"It's very important for someone to be around and available. They've been using me as that person at the Kingsley, but their needs to be a dedicated person to answer those qustions because there is so much good going on Fort Madison." she said.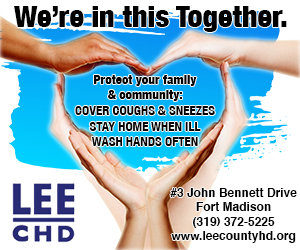 Julie Hohl, the chairman of the Fort Madison Tourism Bureau, said Eastin will bring a lot to the city.
"I am very much looking forward to working with Chi," Hohl said.
"She brings a lot of great experience to the table that will be ideal for this position. I believe Chi will provide Fort Madison visitors, City Council, and board members with a high level of insight, service, and commitment to the City's dedication to tourism."
Tim Gobble, executive director of Fort Madison Partners, said the sharing resources will be beneficial to the entirety of Fort Madison's economic and tourism efforts.
Eastin will be housed in the Partners' Fort Madison offices on 7th Street.
"The idea of being able to share resources and not have those initial start-up costs associated with a separate office space was important to the Partners' Affiliate organization," Gobble said.
"We want to make sure all the funds allocated for 2023/24 were going to be beneficial to help make a difference to bring tourism to Fort Madison versus having to set aside funds to furnish office space."
Eastin said she's fairly unfamiliar with the board and that will be part of her initial work load.
"I haven't been involved in it since the Lee County group got together," she said.
"I really don't know who's on the board, but I know that it's a good cross-section of hospitality in Fort Madison and the county and that's a good mix for that board."
Eastin said the funding mechanism in place which pays her $56,000 annually including benefits is a good start, but she plans on fundraisers to help boost the resources for tourism efforts.
"It's a start. So we're going to work with what we've got. Hopefully, we'll get to some new fundraisers and get after it even more.. We're going to do with what we have and then build on that for next year."