FORT MADISON – Officials at Fort Madison High School have announced the sharing program with Holy Trinity Catholic, specific to the Bloodhound football team, will not be renewed for the upcoming 2023 football season.
A statement released Wednesday afternoon indicated that only football will be impacted at this point.
The Iowa High School Athletic Association (IHSAA) engaged in a reclassification process for all statewide football programs as it does every two years. The organization finalized those plans on Monday and it was determined the Fort Madison football program would be classified as a 3A program without including the nonpublic enrollment numbers of HTC.
"If the enrollment numbers of HTC were to be included in the classification, the Fort Madison football program would be forced into a 4A classification. As a result, FMCSD will not be renewing the sharing agreement with HTC for the football program beginning the 2023-2024 school year," the statement from the district indicated.
Head Bloodhound Football Coach Derek Doherty said the move would impact about five players but only a couple would impact things immediately. He said for the health of the program, it's probably the best move.
"It does suck, because I love those guys," Doherty said.
"I found out earlier today that that was going to happen. It's definitely a double edged sword, We're happy to be playing 3A football because that's where we sit. When you look at BEDs that's where it would have been, so the activities office based that decision on whether to be 3A or 4A.
"But there are really good football teams all the way through. If you look at size of schools, though, we're a 3A."
Doherty said Fort Madison was only getting one or two per year, but last year that number grew and he was seeing more in the Athletic Enhancement program.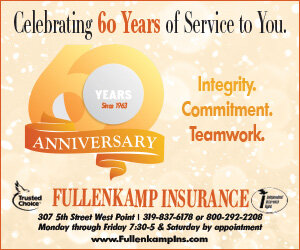 "We were only getting one to two a year. Last year we ended up getting six. Adam Sobczak is a big loss, he's been fantastic, and Conner Gehling was just giving football a shot. Hope that benefitted him in basketball."
Doherty said the shared programs have gone back and forth with different coaches.
"I totally understand what happened. HTC has done that in the past with Coach (Michael) Sheerin because they didn't want the Fort Madison girls on the HTC team, which turned out to be a blessing because Coach (Sebastian) Seifert was able to put our team back together at FMHS and have success."
Holy Trinity Athletic Director John Goetz said, "I talked to Jeff. He didn't give me anything other than that they are in discussions."
"I understand the situation 100%, but I feel bad for our kids who have put their heart and soul into playing football," Goetz said. "These kids get along and it's good for the two schools to do that."
Goetz said he hopes going forward the two schools can continue the positive relationships they've had in the past.
"I would hope we could keep that relationship going. We've had a great relationship with Fort Madison. We've had kids participate in tennis, soccer, football, baseball, and I just hope we can continue with that in a positive way with Fort Madison," he said.
"I don't want it to be negative."
Goetz said he spoke with Fort Madison Activities Director Jeff Lamb Wednesday afternoon. Lamb declined to comment for the article.