WEST POINT - The Lee County Conservation Board selected Jones Contracting Corp. as the contractor for the Pollmiller Trail Reconstruction Project during their March board meeting as they came in with the lowest bid.
Jones Contracting Corp. closed the trail to begin work on March 20th. The project will involve the removal of the full length of asphalt trail extending from Pollmiller Park Road into West Point's South Park and replacing it with a 10-foot wide concrete path.
The project completion date is entirely weather dependent, but the LCCB is confident in Jones Contracting Corp.'s work. The new trail will be well worth the wait.
A safety concern required a change to the current route of the trail. To account for this change, the new concrete path will end approximately 200yrds away from Pollmiller Park Road and will connect to the road temporarily with a gravel trail. This will allow for a future reroute of the trail to move it away from the turn in the Pollmiller Park Road.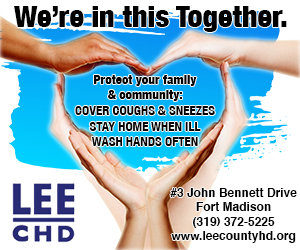 This has been a safety concern for walkers and bikers crossing the road where drivers often take the turn too quickly and do not have high visibility of those coming off of the trail. The new route will take pedestrians through the prairie and come out across the road from a parking lot, which will allow for better visibility for drivers.
The goal is to acquire the funding for this second phase of the Pollmiller Trail over the next year.
The LCCB is excited to see work begin on this project. Planning and acquiring funding for this project began in 2021. This is a heavily used trail and new concrete pavement will improve the user experience for years to come.
About Lee County Conservation: Lee County Conservation manages 30 individual parks, wildlife areas, historic sites and water recreation access points - encompassing some 2,796 acres across the county. The mission of the Lee County Conservation Board is to promote conservation of local natural resources and to provide parks and conservation areas, outdoor recreational opportunities, and environmental education for the public.