Des Moines County robbery spills into north Lee County
BY CHUCK VANDENBERG
PCC EDITOR
DENMARK - Lee County deputies apprehended two men in connection with a suspected armed robbery out of Des Moines County early Thursday morning.
Authorities were alerted to suspects being pursued by Henry County and Des Moines County deputies after an armed robbery took place at the Outpost Bar and Grill in Burlington.
Lee County Sheriff Stacy Weber said the two suspects were able to elude deputies on foot near Geode State Park after the vehicle they were riding in hit stop sticks that were deployed.
Then reports came into LeeComm referencing another stolen vehicle just after 5 a.m. in northern Lee County near Bridgeport. Weber said deputies swarmed the area in case the vehicle was taken by the suspects sought in connection with the robbery.
While deputies were in the area, a call came in that two possible suspects were in the Denmark JetStop.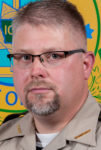 "I was in town and turned around and headed back to the store and other deputies responded to the scene. One suspect took off out the door and was chased down by deputies Clint Wray and Wade Johnson. Deputy Chad Donaldson and I apprehended the other at the door," Weber said.
The two men were taken to Lee County Sheriff's Department where officers from Burlington Police conducted interviews. The two could be charged in Lee County with interference and theft pending an investigation of the events.
Weber said no weapons were recovered on the individuals.
Arrested in connection with the robbery were two juveniles from Keokuk and two male adults from Keokuk. The juveniles were apprehended after the vehicle hit the stop sticks.
Police have identified Noah Christopher Scott, 18, and Samuel-Evon Christopher Robert McCoy, 22, of Keokuk as being taken into custody by Lee County Sheriff's deputies.
Scott and McCoy were both charged with two counts of first-degree robbery and conspiracy to commit a forcible felony, and were transferred to the Des Moines County Correctional Center. They are being held pending a hearing.
The juveniles were both taken to the Southeast Iowa Juvenile Detention Center in Montrose.
According to reports, officers responded to a report of a robbery at gunpoint at the Outpost Bar and Grill at around 12:54 a.m. Thursday morning. At least two of the suspects allegedly entered the bar and took an undisclosed amount of cash and items from patrons.
Police attempted to stop the suspects' vehicle at Mt. Pleasant Street and Roosevelt in Burlington but the driver refused to stop and led officers on a chase westbound hitting speeds of 100 mph. Stop sticks were used to disable the vehicle and the suspects attempted to flee on foot.