FORT MADISON - Moody's has knicked the city's bond rating.
The city uses the bond rating company to establish a rating for when the city has to issue bonds. The rating determines short and long-term interest rates the city can secure when borrowing money.
City Manager David Varley said he doesn't know what the impact will be, but the city's rating went from A2 to A3, which is a downgrade.
Varley said the company has done some calibrations on how they evaluate a city's rating and predominantly knocked everyone down a bit.
"It will affect future bond ratings, basically effecting the interest rates," Varley said. "The higher the rating, the lower, the better interest rate, the lower rating will affect that. But it's hard to determine (what impact the lower rating will have).
Varley said the city may look at using Standard and Poor going forward because he was a little perplexed as to why the rating system at Moody's was calibrated.
He said there was a final phone call on Tuesday with Moody's staff.
"They came up with a new program where they introduced new parameters they use to rate judge or rate muncipal bonds. They are the service we use to rate our bonds," Varley said.
"They went across the country and redid most of the cities and today we sat down and they gave us the news and, after looking at our numbers, they downgraded us one level from A2 to A3."
Varley said the company now looks at enterprise funds, which they haven't done. He said the company is biased against a cash-based audit, which most cities in the state uses.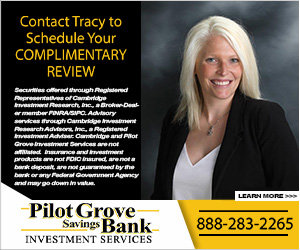 "They wouldn't admit it to us, but they kinda said most cities in Iowa are going to get downgraded a little bit because of that, which we don't understand," he said.
He said there were other numbers that the company isn't using properly such as transfers that haven't taken place despite the money being present, and they see negative fund balances.
"We disagree with them there a little on that," he said.
Moody's is also considering the amount of money the city is going to need to spend in the future for the combined sewer overflow separation projects, which currently is projected at $8 miilion apiece for four projects, or $32 million.
Varley said they are also factoring in the household income of Fort Madison, which is below the national median.
"We're doing the best we can, but have a lot of financial issues facing us. We have a lot of expenses coming up and that's what we ended up with," Varley said.
"We may end up, next time we do a bond, we may go to S&P (Standard and Poor) because we aren't too pleased with some of the ways they've reviewed our finances."
In a related issue, Mayor Matt Mohrfeld suggested the city also look at possibly getting fresh requests for proposals for bond counsel. The city currently uses Ahlers and Cooney out of Des Moines. The city last got proposals nine years ago in 2014.
City staff was directed to prepare RFQs for the service.