LEE COUNTY – Holy Trinity Catholic's Luke Hellige led the list of SEI Superconference South All-Conference student athletes released this week.
Hellige was the only area player to be named to the 1st team boys' team. Hellige averaged 19.2 points per contest and scored 423 on the season, which was second best in the conference behind New London's Blaise Porter. Porter scored 626 points.
Hellige also had 184 rebounds in his sophomore year for the Crusaders. That was also good enough for second in the conference behind Porter's 209. The Crusaders finished the year 5-9 in SEISC play and 9-13 overall.
Central Lee sophomore Brayden Wyrick was named to the SEISC South 2nd team all-conference along with Holy Trinity's Conner Gehling.
Wyrick scored 347 points over the campaign and pulled down 167 rebounds, both tops for the Hawks. Gehling was the Crusaders' main force in the middle scoring 296 points and pulling in 143 rebounds in his junior year.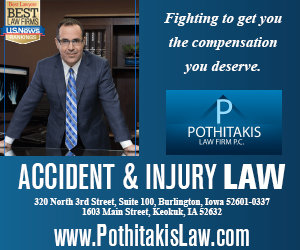 Central Lee's Cory Jones and Owen Swan joined HTC's Nick Fullenkamp and Adam Sobczak with honorable mention honors.
HTC's Mary Kate Bendlage and Central Lee's Makayla Morrison were both named to the girls' SEISC South Division first team All-Conference squad.
Bendlage was second in the loop with 383 points behind West Burlington's Abbey Bence who finished with 525 on the year. Morrison was 5th in the league in scoring with 340 points leading the Hawks to a 6-8, 9-13 record. Morrison was 3rd in the league in 3 pointers with 52.
The Crusaders' Teagan Snaadt and Central Lee freshman Kenna Sandoval were both honored with 2nd-team selections.
Central Lee's Mya Lampe and Karlie Pohren joined HTC's Kayla Box and Presley Myers with honorable mention honors.