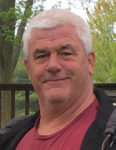 Dr. William "Bill" Jordan, 59, of Franklin, Iowa, passed away at 2:16 a.m. Sunday, December 12, 2021, at the Southeast Iowa Regional Medical Center in Fort Madison.
He was born on August 4, 1962, in Boone, Iowa, the son of Richard T. and Helen Kathleen (Pepper) Jordan. On May 16, 1992, he married Rhonda Breittenstein in Farmington, Iowa.
Survivors include his wife: Rhonda; son: Richard Jordan of Ames, Iowa; daughter: Kaitlin Jordan of Portland, Oregon; sister: Ann (Pete) Umbaugh of Georgia; two brothers: John (Marilyn) Jordan of Boone, Iowa, Mike (Leslie) Jordan of Gilbert, Iowa and father-in-law: Larry Breittenstein of Farmington, Iowa. Also surviving are several nieces, nephews and cousins.
He was preceded in death by his parents and mother-in-law: Ginger Breittenstein.
Bill graduated from the United Community High School in Boone and Iowa State's College of Veterinary Medicine. He worked as veterinarian for Shannon Veterinary Clinic in Donnellson. He was a member of St. James the Less Catholic Church in St. Paul and the Lee County Cattleman's Association. He enjoyed woodworking, gardening, hunting, spending time with family and friends. He loved animals and took special care of them.
His body has been entrusted to the crematory of Schmitz Funeral Home for cremation.
Friends may call after 12:00 noon, Wednesday, December 15, 2021, at Schmitz Funeral Home in Donnellson, where the family will receive friends from 4:30 p.m. to 7:00 p.m. that evening.
A Mass of Christian burial will be held at 10:30 a.m. Thursday, December 16, 2021, at St. James Catholic Church in St. Paul with Father Dan Dorau as celebrant.
Burial will be at St. James Cemetery in St. Paul.
A memorial has been established in his memory for Shriners Hospitals for Children.
Online condolences may be made to the family at www.schmitzfuneralhomes.com. Schmitz Funeral Home of Donnellson is assisting the family with arrangements.