WASHINGTON - Jaron P. Rosien, the current mayor of Washington, Iowa has been changed with felony sexual abuse stemming from an incident at Rosien's bar on Jan. 8.
According to a release from the Iowa Department of Public Safety, Rosien turned himself into police on Tuesday on a criminal charge of Sex Abuse 3rd degree (Class C felony.)
Rosien has served the city of Washington since 2014, first as a councilman until 2018, and then as mayor from 2018 to present day.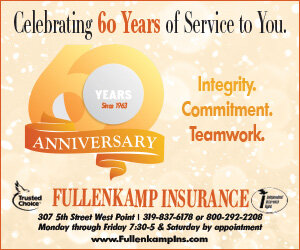 Allegations surround an incident at the bar where Rosien approached a 27-year-old man and engaged in inappropriate touching that appears to be verified by investigators who viewed surveillance tape after obtaining a warrant.
Rosien admitted to investigators of the flirtatious behavior but said due to alcoholic consumption couldn't remember if any of the touching allegations took place.
Rosien was taken into custody by the Washington County Sheriff's Department and is being held in the Washington County jail.
The investigation into this matter was conducted by Agents within the Major Crime Unit of the Iowa Division of Criminal Investigation; assisted by the Office of the Washington County Attorney and the Office of the Iowa Attorney General - Area Prosecutions Division.