LEE COUNTY - The area is bracing for a holiday winter storm that could dump up to five inches of snow locally, with the potential for blizzard-like conditions Thursday and Friday.
Lee County Sheriff Stacy Weber said he got a call from Lee County Emergency Management Coordinator Jason Dinwiddie about the potential of the storm.
"We're making sure we've got things ready to keep our deputies and vehicles on the road," Weber said.
"For the motorists, just like I always say, plan ahead and leave early. Make sure you have enough fuel to keep the car running and warm if you were to get stranded."
Weber said one of the more crazy warnings is to remind motorists to wear coats.
"People often get in the car and they think they're okay, they're just going here or there and then something happens and they're sitting in the car with 50-mph winds. That's brutal," he said.
Dinwiddie said weather predictors are not sure on snowfall amounts but he said the latest information is maybe not as much as had been expected, so he cautioned against the extreme cold.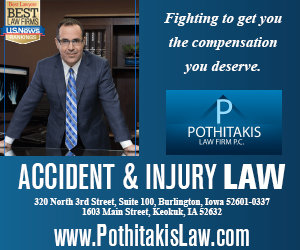 "We're more concerned about the frigid temperatures. When it gets that cold, sometimes that deicer doesn't work real well. And people need to be indoors," Dinwiddie said.
He said motorists should also keep unfrozen water and snacks in their car and make sure tires are road worthy.
"Sometimes they think they'll be okay with and get through the winter, but if their tires aren't road worthy they need to either get new ones if they can afford them, or wait till the roads are cleared. Otherwise we risk accidents," he said.
According to the National Weather Service out of the Quad Cities, blizzard conditions are possible with extremely cold wind chills as low as 30 to 40 below, starting mid-day Thursday.
The storm is expected to hit portions of north central, northwest, and west central Illinois, east central, northeast, and southeast Iowa and northeast Missouri from Wednesday evening through late Friday night.
Travel could be very difficult with widespread blowing snow that could significantly reduce visibility. The hazardous conditions could impact morning and evening commutes. Strong winds could cause tree damage and potential power outages.
The cold wind chills as low as 30 below zero could cause frostbite on exposed skin in as little as 30 minutes. * The weather service said there is uncertainty around snowfall totals, but impacts from the combined effects of the wind and snow are expected.