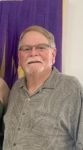 Eric L. "Rick" Johnson, age 70, of Dallas City, Illinois, passed away Friday, December 10, 2021 at Southeast Iowa Regional Hospice House in West Burlington, Iowa.
He was born December 28, 1950 in LaHarpe, the son of John and Annalee (Gleason) Johnson. On August 22, 1970, he married Cathy Markey in Carthage, Illinois.
Rick was an ASE Certified Mechanic. He worked at several Ford dealerships, and was the Automotive Tech Instructor at Southeastern Community College for twelve years. He had also worked at CarQuest and Advance Auto Parts. He retired from IWI in 2016.
When his children were young, he assisted with the summer ball programs, both as a coach and an umpire and was active in the Boy Scout program. More recently, he assisted with instructing the Hunter Safety Courses. He enjoyed camping while riding horse trails, and later in their RV, especially with their grandchildren . Rick also enjoyed feeding his birds, working on cars and motorcycles in his shop and attending rodeos, where he often helped behind the gates. He was a history buff, and enjoyed participating in re-enactment groups. He was a member of the National Rifle Association, Old NW Co., and Flathead Freetrappers.
Survivors include his wife: three children: Justin (Mindy) Johnson of Warsaw, IL, Andy (Melissa) Johnson of LaHarpe, IL, Krista Johnson of Mount Pleasant, IA; ten grandchildren: Erica (Brandon) Weisenburger, Leighton (Kirsten) Johnson, Karissa Johnson, Wyatt Johnson, Abbie Johnson, Olivia Johnson, Julissa (Marty Baccam)) Willdrick, Carter Willdrick, Jaylee Willdrick, Camdyn Palmer; four great-grandchildren: Cayden, Casey, Graci, and Corbyn; two siblings: Joanna (Barry) Wright and Jan (Sterling) Swick, and numerous nephews, nieces and cousins.
Visitation will be from 5:00 until 8:00 p.m. Monday December 13, 2021 at the LaHarpe Christian Church. Masks are optional. Graveside services will be held at 11:00 a.m. Tuesday, December 14th at the LaHarpe Cemetery, with Rev. Larry Menschel officiating. A meal and Celebration of Life will follow at the Annex in LaHarpe.
A memorial fund has been established for Dallas City Riverview Sportsmen or the Southeast Iowa Regional Hospice House. Please visit Rick's obituary at banksandbeals.com to sign the guest book and leave a condolence.