LEE COUNTY - Construction work on a $5.4 million broadband expansion in Lee County could get underway in the spring.
Tim Fencl, President of Danville Mutual Telephone Co., told the Southeast Iowa Regional and Economic Port Authority board Thursday that plans are in the works to begin construction as soon as the frost is out of the ground in the spring.
The project will run fiber-to-home service to about 120 rural homes and businesses in the county and will create a redundancy loop for the county and Danville Telecom to minimize down time.
Fencl said the project creates a "future proof" infrastructure because the equipment will be in place and any future demands can be addressed from an electronics perspective and won't require any additional infrastructure improvements.
Danville Telecom's website danvilletelco.net has a website where residents who are looking for service can fill out a form that will go to the office and staff can review the location to see if it makes sense to build out to them.
"For example, if we get a cluster of homes in cul de sac and we're going right by that cul de sac, we may drop a line and run service to that area," Fencl said.
"I don't want to get overrun by the entire county saying we were going to do this, but I'm saying we can take a look at it."
Fencl also talked about The Broadband Equity, Access, and Deployment (BEAD) Program, which has provided $42.45 billion to expand high-speed Internet access by funding planning, infrastructure deployment, and adoption programs in all 50 states.
Fencl said the federal goverrnment will allocate at a minimum $100 million to the state of Iowa and the telecommunications companies that have plans and partnerships like the one in place between Lee County, SIREPA, and Danville Telecom will be better positioned to take advantage of that funding.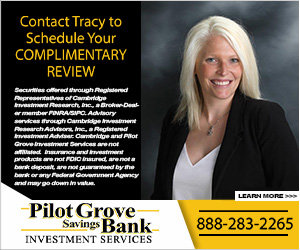 He said prior to the latest round of broadband funding, resources were channeled to areas that were unserved or underserved based on census blocks.
But those blocks have been shown to be inaccurate and now the Federal Communications Commission has gone to geocode locations. So each home, business, or address is logged and submitted based on their actual level of service.
"That map is already in production. We, as providers, have had to submit this data over the last year to the FCC and the NTIA (National Telecommunications and Information Administration). They are looking at that map and it is being pushed out for a challenge process," Fencl said.
The Iowa Chief Information Officer has a map on their website at https://ocio.iowa.gov/ that shows what service levels are available across the state. There is also a link to challenge the findings.
"This is much closer than we had using census blocks. Once that map is complete the federal government will allocate at a minimum $100 million to the state of Iowa. It could be more than that based on the number of locations we have," he said.
Once the state has the money allocation, they will submit a plan to NTIA on how they will distribute that money. When the state sends out an Intent to Qualify, the partnerships in Lee County can work together to get a plan in front of the state.
"This planning process needs to be started now and continue into the next couple months and years so every time a funding option comes to our doorstep we're ready," he said.
"Just the fact that we're already doing this project together gives us a leg up on any other application because of the partnership that's formed. We can show them this is what we've already done with money allocated to us previously."
Fencl said the $42.5 billion will not fix the country's problem. He said the latest estimate he heard was $800 billion to get high speed Internet to every home.
"The estimate for the state of Iowa a year ago was just short of $900 million. So when we're talking about another hundred or two hundred million, it's not going to fix everything."