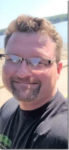 Kyle Edward Savage, 36, of Keokuk, passed away on Monday, May 9, 2022, at University of Iowa Hospital in Iowa City, Iowa.
A lifelong resident of Keokuk, Kyle was born on July 19, 1985, in Keokuk, the son of Kirk and Ramona (Stott) Savage. He graduated from Keokuk Senior High in 2004 and worked at Roquette as an operator from 2014 until his passing. Kyle loved being on the river, fixing up his jet skis, and working in his garage. He adored his dog Oscar and loved to cruise in his station wagon and his custom-built side-by-side. Kyle was always road-tripping and the leader of many shenanigans. Kyle was a salvage expert and knew no stranger. He was known for the life he brought to his work in the garage as well as being the life of the party.
Kyle is survived by his parents Kirk and Ramona Savage of Keokuk; his daughter Madlyn Ashley of Edwardsville, Illinois; his maternal grandmother Judy Stott of Keokuk; two brothers: Dustin (Amanda) Savage of Keokuk and Brandon (Nicole) Savage of Canton, Missouri; his girlfriend Heather Sparrow and her children Ethan and Tyler Sparrow, all of Keokuk; nine nieces; one great-niece; two great-nephews; several aunts, uncles and cousins; and many close friends.
Kyle is preceded in death by his paternal grandfather Ramo Stott and his paternal grandparents Clarence and Virginia Savage.
Funeral services will be held at 7 pm on Friday, May 13, 2022, at DeJong-Greaves-Printy Funeral Home of Keokuk, with visitation at the funeral home from 4 to 7 pm on Friday directly before the service. A celebration of his life will be held at a later date.
Memorials may be directed to Kirk or Ramona Savage for Madlyn's education fund or a river safety program.
Tributes and condolences may be left at www.dejongsfuneralhome.com.
DeJong-Greaves-Printy Funeral Home of Keokuk is in charge of arrangements.