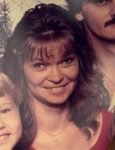 Tina Marie Hamelton, 63, of Keokuk, passed away on Sunday, December 26, 2021, at Saint Luke's Hospital in Cedar Rapids, Iowa.
Tina was born on November 25, 1958, in Moline, Illinois, the daughter of Tressler B. "Tuffy" and Shirley (Potter) Carlton. On May 29, 1976, she was united in marriage to Rick Hamelton in Keokuk, Iowa. He survives.
Tina was employed at Methode Electronics for seventeen years and later worked for the Keokuk School District for a short time. She enjoyed spending her free time crocheting, camping and attending flea markets, antique shops and rummage sales. Her favorite hobby was spending time with her friends and her family, especially her grandkids who were the light of her life.
Tina is survived by her husband Rick Hamelton of Keokuk; two sons: Justin (Hayley) Hamelton of Burlington, Iowa, and Cory Hamelton of Keokuk; three grandchildren: Jackson, Madelyn and Brody Hamelton; her special friend Alliyah Current; and two brothers: Randy (Mona) Carlton of Hamilton and Richard (Debbie) Carlton of Keokuk. Other survivors include many nieces, nephews and cousins.
Tina is preceded in death by her parents; her sister Faith Shotts; and five brothers: Ron Dan, Steve, Raymond and Tommy.
Tina's life will be celebrated with a visitation on Thursday, December 30, 2021, from 2:00pm to 7:00pm with family meeting friends from 5:00pm to 7:00pm at DeJong-Greaves-Printy Funeral Home in Keokuk.
Memorials may be directed to the Keokuk Humane Society.
Tributes and condolences may be left at www.dejongsfuneralhome.com.
DeJong-Greaves-Printy Funeral Home of Keokuk is in charge of arrangements.