Liberty Invitational up next on Saturday in Wentzville
BY PCC STAFF
FORT MADISON - The Bloodhounds took advantage of five forfeits from Mediapolis, and then rebounded from a tight early match with Wapello to sweep its two matches at a four-team double dual in a packed Hound Dome Tuesday night.
Freshman Caleb Bolander recorded two pins on the night wrestling at 138. The Burlington transfer got pins over Mediapolis' Isaiah Robben 41 seconds into the second period, and then got a hard-earned pin over Wapello's Dylan Woodruff at 25 seconds into the 3rd period to lead the Hounds.
Senior Jakob McGowan continues to put together a solid season after taking 4th last week at the Cliff Keen Invitational at 185 pounds. McGowan got a quick pin over Mediapolis' Kyle Vorwerk and then scored a tech decision over Caleb Ealey of Wapello 16-1 just three seconds before the end of the match.
Emmett Kruse got a couple pins at 126, the first over the Bulldogs' Braxton Davis at 4:43 in the second period. He then worked a tough match with Zach Harbison of Wapello. Kruse had a slight point advantage in that match, but managed to get a 6-point pin for the Hounds with about :36 left in the match.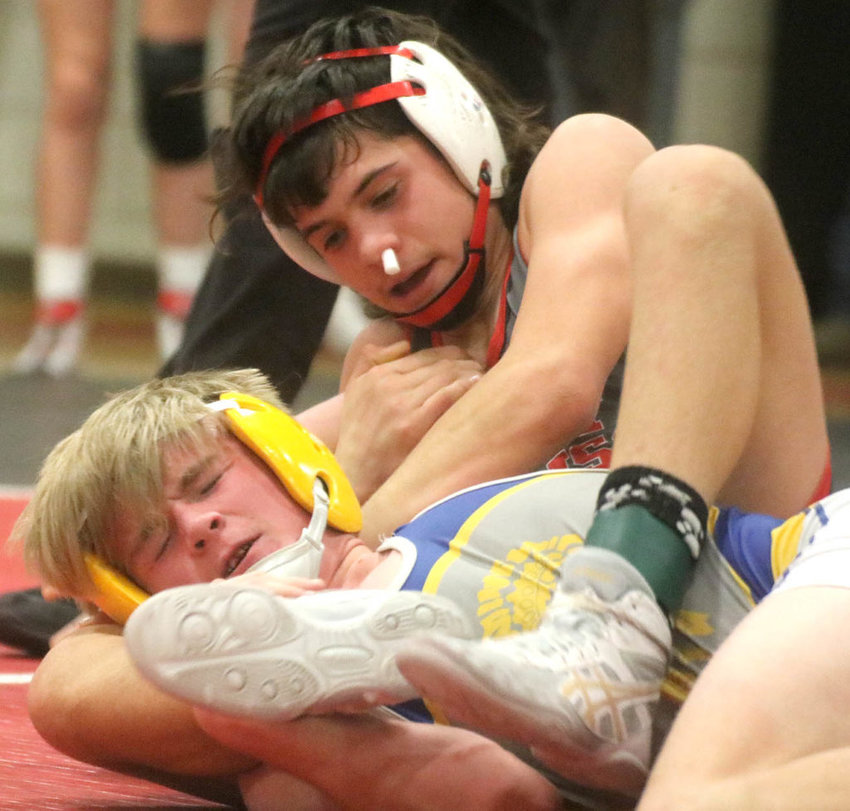 Fort Madison's Aidan Pennock found himself up against Mediapolis' Quinten Aney, the state's No. 3 wrestler in Class 1A at 132 lbs. Aney wrestled up at 145 with Pennock and took an 18-2 tech fall at the end of the second period for the win. Pennock rebounded with a 2nd-period pin over Wapello's Matthew Helscher at 2:52.
Daniel Sokolik also impressed with a win at 220 lbs. He won by forfeit against Mediapolis, then came back and pinned Wapello's Kekai Seumanautafa at 2:41 in the second period.
Fort Madison's Teague Smith, Ike Thacher, Gavyn Siemens, Logan Pennock, Henry Wiseman and Gavin Wiseman all had wins for the Hounds.
Gavin Wiseman won by forfeit against Mediapolis and then pinned Wapello's Garen Wilkerson with the fastest pin of the night for Fort Madison in just 16 seconds.
The Hounds travel to Wentzville, Missouri Saturday for the Liberty Invitational with wrestling starting at 10 a.m.
Complete results from Tuesday's action are listed below:
Fort Madison (FOMA) 63.0 Mediapolis (MEDI) 17.0
170: Teague Smith (FOMA) over Lucas Wagenbach (MEDI) (Fall 2:20) 182: Jakob McGowan (FOMA) over Kyle Vorwerk (MEDI) (Fall 0:45) 195: Isaac Thacher (FOMA) over (MEDI) (For.) 220: Daniel Sokolik (FOMA) over (MEDI) (For.) 285: Jaden Wenig (MEDI) over Christian Young (FOMA) (Fall 1:03) 106: Gavyn Siemens (FOMA) over Wil Whitaker (MEDI) (Fall 3:33) 113: Gavin Gerber (MEDI) over Tateum Schelich (FOMA) (Fall 2:40) 120: Logan Pennock (FOMA) over (MEDI) (For.) 126: Emmett Kruse (FOMA) over Braxton Davis (MEDI) (Fall 4:43) 132: Henry Wiseman (FOMA) over Grady Gunn (MEDI) (SV-1 10-8) 138: Caleb Bolander (FOMA) over Isaiah Robben (MEDI) (Fall 2:41) 145: Quinten Aney (MEDI) over Aidan Pennock (FOMA) (TF 18-2 6:00) 152: Austin Miller (FOMA) over (MEDI) (For.) 160: Gavin Wiseman (FOMA) over (MEDI) (For.)
Fort Madison (FOMA) 50.0 Wapello (WAPE) 21.0
182: Christian Vincent (FOMA) over (WAPE) (For.) 195: Jakob McGowan (FOMA) over Caleb Ealey (WAPE) (TF 16-1 5:57) 220: Jacob Miller (WAPE) over Isaac Thacher (FOMA) (Dec 7-4) 285: Daniel Sokolik (FOMA) over Kekai Seumanutafa (WAPE) (Fall 2:41) 106: Codder Malcom (WAPE) over Gavyn Siemens (FOMA) (Fall 4:58) 113: Dawson Tipps (WAPE) over Tateum Schelich (FOMA) (Fall 0:49) 120: Logan Pennock (FOMA) over Garret Dickey (WAPE) (Dec 7-2) 126: Emmett Kruse (FOMA) over Zach Harbison (WAPE) (Fall 5:24) 132: Jacob Chamberlin (WAPE) over Henry Wiseman (FOMA) (Dec 6-0) 138: Caleb Bolander (FOMA) over Dylan Woodruff (WAPE) (Fall 5:25) 145: Aidan Pennock (FOMA) over Matthew Helscher (WAPE) (Fall 2:52) 152: Elijah Belzer (WAPE) over Austin Miller (FOMA) (Dec 7-4) 160: Gavin Wiseman (FOMA) over Garen Wilkerson (WAPE) (Fall 0:16) 170: Teague Smith (FOMA) over (WAPE) (For.)