Officials go deep on perseverance and potential of new Amtrak Depot
BY CHUCK VANDENBERG
PCC EDITOR
FORT MADISON - A slight sprinkle and chilly wind did nothing to take away from the celebration of community as the Southwest Chief stopped westbound for the first time at the city's new Amtrak depot Friday night.
Mayor Matt Mohrfeld stepped off to cheers as he waived to hundreds that had piled onto the new passenger platform in historic downtown Fort Madison.
"History is made," Mohrfeld said as he was handed a microphone from Amtrak Public Relations Manager Marc Magliari.
"If it wasn't for the mayors championing this, and I want to see Brad (Randolph's) hand in the air and John Wright's hand in the air, the Steve Ireland family with their hands in the air."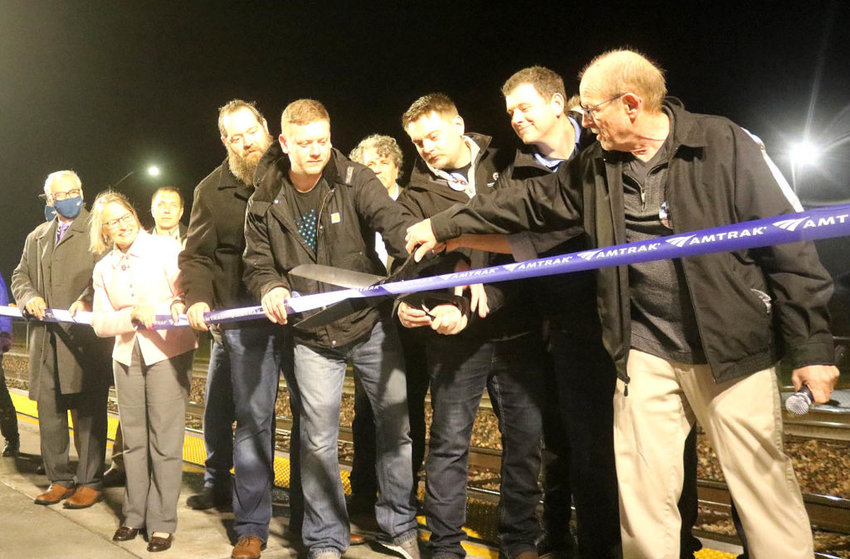 Mohrfeld also thanked the former and current council members for taking the project and putting it over the fence.
"This isn't about getting on a train and stepping off, it's a lot bigger than that. It was about finding the money, the backing, the vision, and bringing this across the finish line," Mohrfeld said.
Ken Kempker, Ireland's son, spoke for the Ireland family with the backdrop of the Chief sitting at the Steven J. Ireland Memorial Depot.
"This is dad's vision and it's amazing to see this. Thank you, everyone. I know he's looking down on us and he's extremely happy," Kempker said.
Mohrfeld said former Mayor Ireland took a vision first put forth by John Wright and went to work putting together support at local, state, and federal levels to start working toward bringing a historical depot back to the Fort Madison riverfront.
It was a project that, to this day, sits as the legacy of Ireland's mayoral service prior to his death in 2012.
Kempker said as much as his father wanted this project for the community, there were some personal motivations, as well. A granite sign was placed on the west side of the depot in 2012 naming the depot after Steve.
"As much as he wanted to do this for the community he was always taking us on trips as kids to Chicago and St. Louis. It was important for him to see what's outside of Fort Madison, but it was also about bringing people into Fort Madison," Kempker said.
Ireland's other children, Tony, Drake, Steve, Jr., and Charles were also on hand for the ceremony.
"After his dad, our grandpa Harvey, passed away. (Harvey) worked for the railroad and part of those benefits was that grandma could travel anywhere in the country in Amtrak. So they used to go out to California and back and all around on Amtrak when he was a little kid," Charles said.
Those trips included Steve's siblings Craig Ireland, David Slee, and Alan Slee, his brothers, and Amy Coffey his sister.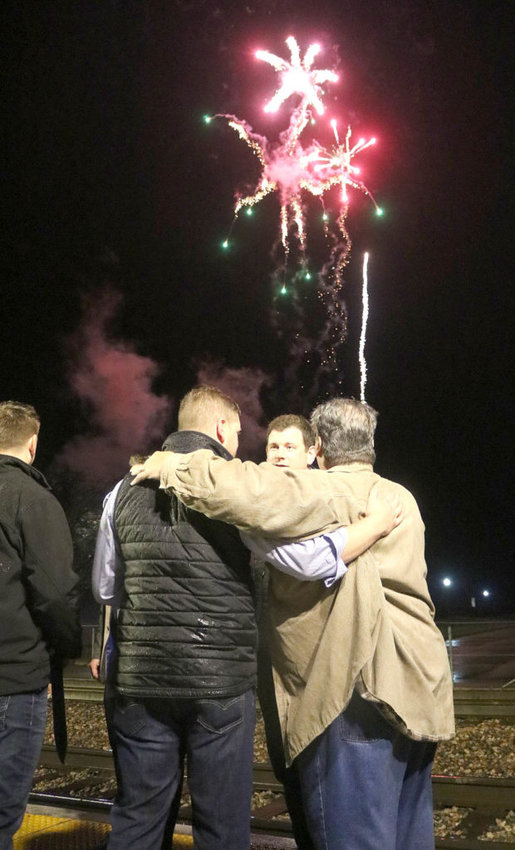 "As many obstacles as there has been, there's a little closure here for us. So it's just a beautiful thing," Kempker said.
"It's kind of insane to see through the years with all the obstacles that generations of mayors have piggy backed this and it's finally become a reality," Tony said.
"This was personal for dad. Our grandpa Harvey worked in this building. When he decided to take this up it wasn't only for the citizens of Fort Madison. His dad worked there and it's going to help the community, so let's do it," Steve Ireland, Jr. said.
City officials, including Councilmen Tom Schulz, Rusty Andrews, and Chad Cangas, and councilwoman Donna Amandus joined Mohrfeld and Public Works Director Mark Bousselot on the morning boarding of the train to Galesburg where city officials there joined the delegation for lunch.
On the way to Galesburg, Mohrfeld talked about his ideas to build on the momentum.
"My concept is to build a relationship with Galesburg by sending them people to visit and when they start seeing that, then they're gonna say, "What's this about" and then they will come to us and maybe we get overnights," he said.
"But this is all consumption driven. Eat, drink, shop, and come home.
"Unless you do this, it's hard to visualize riding this train. Eating lunch - going to three or four shops and coming back. Right across the street there's a really odd health food coop/grocery store and unless you walk through it, it's not for everybody, but it's for somebody, and we don't have one."
The recently-signed Investment in Infrastructure and Jobs Act pumps $66 billion over the next five years into passenger rail service and Derrick James, a government affairs officer with Amtrak, told Mohrfeld that the Federal Rail Administration will be developing a 5-year plan around that stimulus, and lobbying for additional stops or routes for smaller communities is not a bad idea.
"There is $66 billion over the next 5 years in investment in rails. New cars and locomotives will come out of that money. We want to do a lot of expansion that's been proposed and that includes routes," James said.
"The money is more geared toward the train's sweet spot which is trips of two to five hours. These trains run to connect our rural communities. Where our business is growing, and where trains can have the most impact is connecting cities of about two to five hours apart. So two major cities like Chicago and St. Louis or Chicago and the Twin Cities, that's where we're going to be focusing all that expansion effort."
Amtrak national board member Tom Carper was also on the train ride back from Galesburg. He said Amtrak has Connect US vision that shows proposed routes all over the country.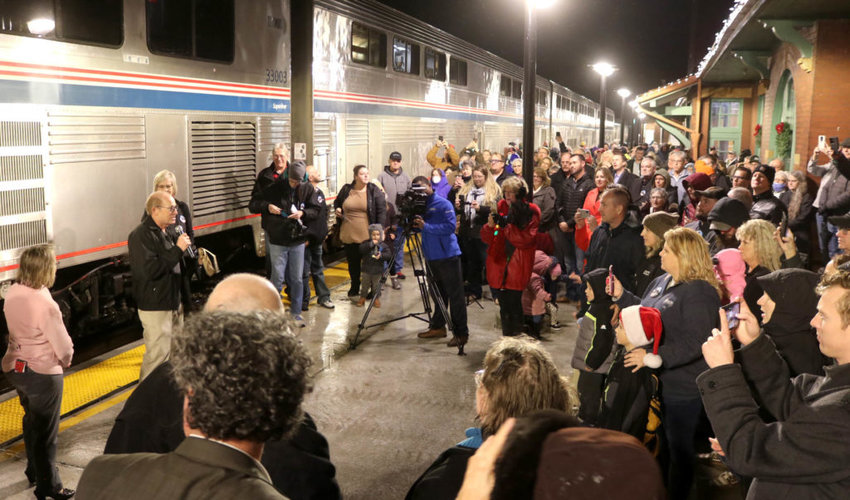 "We also subscribe to the theory the stronger the national network is, the better it is for everybody. Better for my community in Macomb and for Fort Madison."
With James saying the profit sweet spot for Amtrak is in shorter routes, Carper said the service will never be profitable from a balance sheet perspective.
"Passenger rail is not going to be profitable on a balance sheet. But the value comes from the value of generations of Fort Madisons or Whitefish Montanas, Macombs, and Galesburgs. There's value that you derive from tourism and all the things that come with that," Carper said.
Mohrfeld said it's the potential of those different routes and stops that could be most beneficial to Fort Madison.
"Different routes really play into what he's saying. Right now you get into Kansas City at something crazy like 10:30 p.m.. You pretty much get to hotel check-in and you're done for that night."
Mohrfeld said he couldn't really speak to the vision of the previous mayors, but said the timing of the depot opening is pretty good.
"Even though this has taken forever to bring on-line. It makes more sense now than it did even six years ago. Now, you're looking at a few new businesses downtown, a new street, riverfront revitalization, a depot. It has a different feel than it would even half a dozen years ago," he said.
Andrews said time will tell on what impact that relocated depot will have on Fort Madison.
"It's guaranteed it's in a whole lot better place than it was. The location is beautiful. It turned out amazing. It's downtown and I think one of the thing it hurts a little bit is the time the train arrives and leaves from Illinois. It's not very promoting for tourism showing up at 7:30 p.m," he said.
"But the road project, the depot project, the parking lot at 7th Street, all those things make the downtown come together. We need to keep doing what we're doing with Avenue H and, sooner or later, make something happen with downtown and Avenue G with improvements."
Schulz said the investment was worth the effort.
"The city's investment in this, I think, has been minimal and so well-spent. We've protected a great asset," he said.
"But I've become reinvigorated with this whole idea today. Do I think this depot is going to be great boon to downtown - maybe not short-term, but maybe long-term because I think we're going to be moving with more mass transit."
Randolph rode the train along with former councilmen Neal Boeding, Brian Wright, and Chris Greenwald, from Galesburg to Fort Madison for the event
Randolph ushered the project after Ireland's death saying it was both personal to him and a project that tells the region that Fort Madison is still open for business, and allowing the depot project to fail sends a completely different message.
"It's probably a little bit overwhelming," Randolph said looking out into the darkness sitting in the lounge car as the Chief sped toward Fort Madison.
"In the moment when you're working on the project, when you're doing the daily and weekly tasks, it seemed all-consuming. This project looked into the abyss multiple times. You get changes in attitudes and opinion and leadership. It was a struggle to pull that through to the finish."
Randolph said there were times when people on different sides of the project fell off the radar, and the project would hit a wall.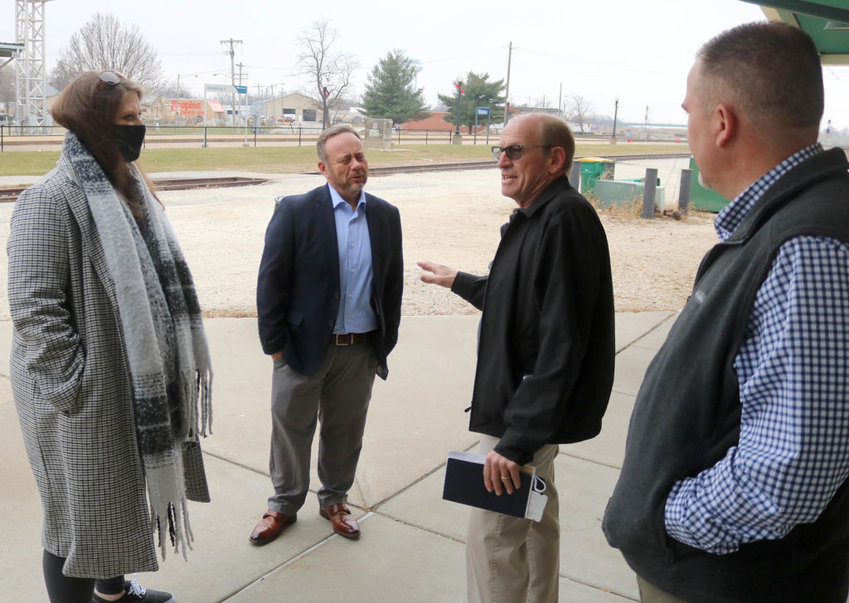 Then he said Ray Lang, an Amtrak official in charge of state supported services, drove to Fort Madison from Chicago and walked into City Hall and apologized for how the project had fallen apart.
"He said 'I'm going to make sure, with your help, we get this project done.' And from that moment on, I was reinflated. It was a new approach from Amtrak. But Ray was the first Amtrak guy to say it was important to him and he took it over on that side."
Randolph said changes including platform length, which went from 750 feet budgeted construction to a 1,200 foot platform that was eventually negotiated back down to 1,000 feet, as well as personnel changes, and internal pressures all worked to, well, derail the project
"There were so many negotiated things throughout the process during a changing regulatory climate. The goal posts kept moving and every time the goal posts moved, the price got higher," he said."
"Delays, extended construction - when you look at the original scope of the project and what it was and you look at it now, it morphed into something so much bigger and more complicated.
"It wasn't because of us, but the things that changed around us. But I couldn't be happier for the Ireland family. You become very close to them through Steve, through his passing. And they always looked back and would check in with me. Sometimes I didn't have great news for them or any news for them. But it means so much to that family and I couldn't be happier for the community."
At one point Randolph said he was ready to acquiesce and kill the project at the direction of the council. Former Councilman Chris Greenwald, who had a close relationship with Ireland while on the council as well, put wind back in Randolph's sails.
At one point Greenwald told the council if they were going to kill the depot project, the city should also shutter the Old Fort. The argument at the time was the city was putting a lot of money into a project that didn't have a solid return on investment.
Greenwald said the city had been propping up the Old Fort, which also has a historical poor return on investment. However with the American Cruise Lines now making stops spring through fall at the city pier, that operation has become more viable. But Greenwald said he was a no vote on the depot relocation for the first three years.
"For two to three years, I kept voting no, and Brad and I were out on patrol one night and talked and I said I gotta get convicted about this," Greenwald said.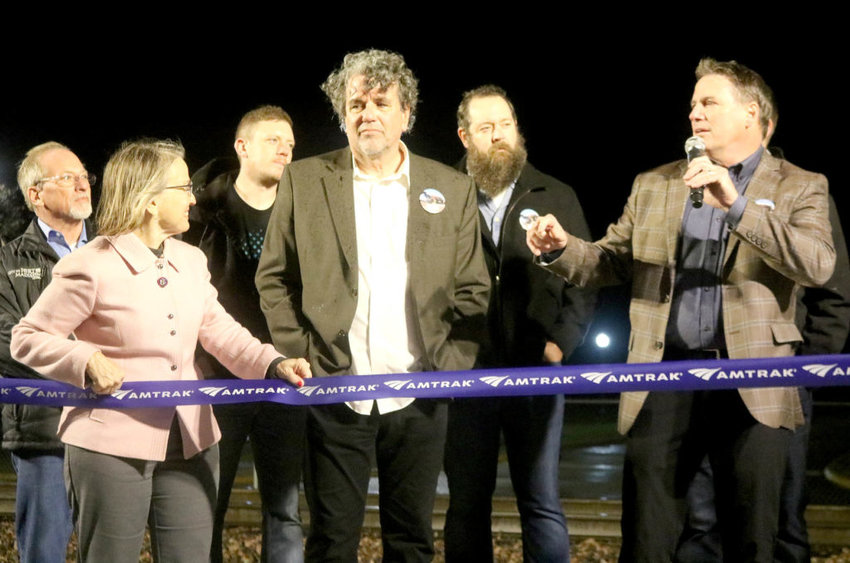 He said with the way that council was shaping up, he could have been the deciding vote to kill the project years back. But conversations with Randolph, and councilmen Neal Boeding and Bob Chestnut changed his mind.
"We're all just dominoes in this project and we had to fall when we had to fall to make all the other dominoes fall," Greenwald said.
"This is an entire community victory. This isn't my victory, even though at one point it was just me and (Randolph) carrying the ball, that was just our time and our job. That's why I'm excited about this. This is everybody's victory."
Greenwald also pointed to North Lee County Historical Society's Andy Andrews for ushering the preservation of the museum, which houses the depot on the east side of the building.
"If he hadn't fought to preserve that depot, we wouldn't be on this train." Greenwald said.