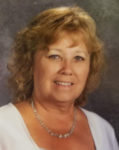 Betty Diane Ralph, 66, of Nauvoo, Illinois, passed away at 12:40 p.m., Tuesday, December 28, 2021 at Mercy Hospital in Iowa City, Iowa.
She was born on November 11, 1955 in Fort Madison, Iowa, the daughter of Dale and Vivian (Simon) Metternich. On April 21, 1974 she married Larry Ralph at Nauvoo Lutheran Church.
Survivors include her husband: Larry; five sons: Chris (Jill) Ralph of Nauvoo, Illinois, Ben (Stephanie) Ralph of Niota, Illinois, Nathan (Lindsay DePew) Ralph of Belleville, Illinois, Kenny (Tosha Sedore) of Colusa, Illinois, James (Rianna) of Nauvoo, Illinois; grandchildren: Brandon, Felicia, Abigail, Sydney, Libby, Liam, Aster, Langston, Emerson, Laynee, Carson, Madelyn; sisters: Joanne (Bob) Balmer of Louisiana, Connie (Jerry) Bevier of Niota, Illinois, Laurie (Richard) Cannizzaro of Colorado, Susan (David) Wilson of Nauvoo, Illinois; and several nieces and nephews.
She was preceded in death by her parents.
Betty graduated with the class of 1973 from Nauvoo High School. She attended Iowa Wesleyan College and received a Bachelors degree in Early Childhood and Elementary Education. She retired from Keokuk Public Schools as a Pre-K teacher at Torrence and recently was a music teacher for Keokuk Catholic School. She was a member of Living Hope Church in Nauvoo, Illinois, actively involved in Boy Scouts of America Troop 56 and the Great River Players. Betty volunteered for Nauvoo Fire and Rescue and served as an EMT for many years. Betty and Larry were directors of Fellowship of the Carpenter, including a group of volunteers that go on yearly mission trips to complete God's handy work. She enjoyed camping, boating, kayaking, and geocaching. Betty lived to serve the Lord and shared His love for others. Most of all, Betty enjoyed spending time with her family and the grandchildren were her biggest joy.
Her body has been entrusted to Schmitz-Banks & Beals Funeral Home of Nauvoo for cremation.
A Gathering of Remembrance will be held at 10:00 a.m. to 2:00 p.m. Saturday, January 8, 2022 at Living Hope Church in Nauvoo.
A memorial has been established in her memory to the Fellowship of the Carpenter.
Online condolences may be made to the family at www.sbbfuneralhome.com. Schmitz -Banks & Beals Funeral Home is assisting the family with arrangements.