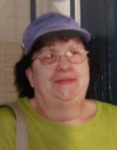 Ellen Baldwin, 80, of Nauvoo, Illinois, passed away at 3:30 a.m. Tuesday, December 7, 2021, at Oak Lane Nursing and Rehab in Stronghurst, Illinois.
She was born on April 1, 1941, in Kirkwood, Illinois, the daughter of Gerald R. and Marie (McCune) Salter.
Survivors include several nieces, nephews, great nieces and great nephews.
She was preceded in death by her parents and three sisters.
Ellen was a 1959 graduate of Nauvoo High School. She worked at Troy Cleaners, Sheaffer Pen Company and retired from the Heinz Company. She attended the former Nauvoo Presbyterian Church.
A private family graveside service will be held at Appanoose Cemetery in rural Niota with Pastor Mark Anderson officiating.
A celebration of life will be held in the Spring of 2022.
A memorial has been established in her memory.
Schmitz-Banks & Beals Funeral Home is assisting the family with arrangements. On-line condolences to the family may be left at www.sbbfuneralhome.com.