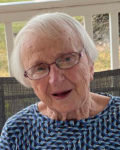 Dorothy Irene Crume, 99, of Donnellson, Iowa, passed away at 9:23 a.m. Friday, December 17, 2021, at the West Point Care Center.
She was born on September 8, 1922 in Donnellson, Iowa, the daughter of Daniel and Anna (Baumann) Schlicher. On January 1, 1941, she married Herold Bedell Crume in Canton, Missouri. They enjoyed traveling and shared their love of dogs.
She is survived by several nieces and nephews.
She was preceded in death by her parents; beloved husband of sixty-five years: Herold; three brothers: Robert Schlicher, Richard Schlicher and David Schlicher and one sister: Agnes Wagner.
Dorothy enjoyed watching various sports, reading and visits with her family. Dorothy will be greatly missed by her nieces and nephews.
Her body has been entrusted to the crematory of Schmitz Funeral Home for cremation.
A private graveside service will be held at a later date.
Burial will be at Evangelical Cemetery in Donnellson.
A memorial has been established in her memory for St. Paul's United Church of Christ and can be mailed to the family at: Schmitz Funeral Home, P.O. Box 56, Donnellson, Iowa 52625.
Online condolences may be made to the family at www.schmitzfuneralhomes.com. Schmitz Funeral Home of Donnellson is assisting the family with arrangements.