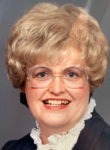 Charlotte Spiekermeier, 75, of West Point, Iowa, passed away at 8:47 a.m. on Thursday, December 2, 2021, at her home in West Point.
Born January 27, 1946, on a ranch in Aberdeen, South Dakota, the daughter of Richard & Leona Grace (Ericson) Thompson. On July 15, 1966, she married Raymond David Spiekermeier at Saint Mary's Catholic Church in West Point.
Survivors include her husband David, daughter: Jean (Jim, her favorite son-in-law) Tennant of West Point, Iowa; grandsons (the loves of her life): Chance (Kenzie Horton) Tennant of Donnellson, Iowa, Chase (Jenna Murphy) Tennant of Des Moines, Iowa; sisters: Audrey Diane of Sierra Vista, Arizona, Janet (Gary) Horstman of Denmark, Iowa; brother-in-law: John Sander of Farmington, Iowa; two nephews (she loved like her sons): Dean (Angela) Sartain of Williamsburg, Virginia, Shawn (Kim) Thompson of Wever, Iowa; five nieces: Sandra, Jennifer, Kandys, Paula, and Lori. Also surviving are several great nieces and great nephews.
She was preceded in death by her grandparents, parents, mother-in-law and father-in-law Jargo & Lucille, brother: Dean Thompson; sister: Sharon Sander; brother-in-law: Duane Sartain and niece: Andrea Sartain.
Charlotte was a 1964 graduate of Central Lee High School. She was a member of the Sharon Presbyterian Church and the United Auto Workers Union. After 44 years of service, Charlotte retired from Champion Spark Plug.
Charlotte's family wishes to extend a special thanks to the Southeast Iowa Regional Home Health and Hospice and JoAnn Lampe.
Her body has been entrusted to the crematory of Schmitz Funeral Home for cremation.
Friends may call after 12:00 noon Sunday, December 5, 2021, at Schmitz Funeral Home West Point, where the family will receive friends from 2:00 p.m. to 5:00 p.m. that afternoon.
A memorial service will be held at 10:00 a.m. Monday, December 6, 2021 at the Schmitz Funeral Home West Point with Pastor Harry Hollingworth and Father Michael Spiekermeier officiating.
Burial will be at St James Cemetery in Saint Paul.
A memorial has been established in her memory for the Michael J. Fox Foundation for Parkinson's and West Point Fire Department & Rescue.
Online condolences may be made to the family at www.schmitzfuneralhome.com. Schmitz Funeral Home of West Point is assisting the family with arrangements.