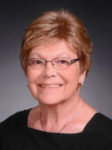 Marjorie Ann "Marge" Stuecker, 75, of Pilot Grove, Iowa, passed away at  5:00 a.m. Tuesday, December 28, 2021, at her home surrounded by family.
She was born on May 7, 1946, at Sacred Heart Hospital in Fort Madison, Iowa, the daughter of Everett and Dolores "Dot" (Sanders) Lutz. On June 4, 1966, she married Larry Stuecker at St. John the Baptist Catholic Church in Houghton, Iowa.
Survivors include her husband: Larry; one son: Kurt (Jill) Stuecker of Houghton, Iowa; two daughters: Tammy (Tim) Mohrfeld of Clive, Iowa and Karla Stuecker of West Des Moines, Iowa; six grandchildren: Katie, Emily and Luke Jurgenson, Evan, Jaxsen and Peyton Stuecker; two step-grandchildren: Cassie (Cole) Strahan and Bridget (Jake) Kellow; five great step-grandchildren: Valouria, Lincoln and Phoenix Strahan, Kase and Blair Kellow; two sisters: Marlene (Raymond) Bentler of Salem, Iowa and Chris (Bill) Dodson of Mt. Pleasant, Iowa; two sisters-in-law: Betty Lutz of Houghton, Iowa and Adele Stuecker of West Point, Iowa; three brothers-in-law: Bob (Martha Ann) Stuecker of West Point, Iowa, Leroy (Viola) Stuecker of West Point, Iowa and Mark (Pam) Stuecker of St. Paul, Iowa. Also surviving are many nieces, nephews, great nieces and nephews who brought much enjoyment over the years.
She was preceded in death by her parents: Everett and Dot; one sister: Sandy and one brother: Ray.
Marge was a 1965 graduate of St. John's Catholic High School in Houghton. She worked for nine years in dietary at Marquette Catholic Schools and then at MHI/Correctional Facility in Mt. Pleasant for nineteen years. She was a member of St. James the Less Catholic Church in St. Paul. Marge enjoyed playing cards, working in the yard and with her flowers, attending her grandkids activities and spending time with family and friends.
The family would like to extend special thanks to her many wonderful friends who provided such comfort over the last several months.
Friends may call after 1:00 p.m. Thursday, December 30, 2021, at St. James Catholic Church in St. Paul, where the family will receive friends from 3:30 p.m. to 6:00 p.m. A parish rosary will be recited at 4:00 p.m. and a wake service will be held at 6:00 p.m. at the church.
A Mass of Christian burial will be held at 10:30 a.m. Friday, December 31, 2021, at St. James Catholic Church with Father Dan Dorau as celebrant.
Burial will be at St. James Cemetery in St. Paul, Iowa.
A memorial has been established in her memory for St. James Catholic Church or Lee County Hospice.
Online condolences may be made to the family at www.schmitzfuneralhomes.com. Schmitz Funeral Home of West Point is assisting the family with arrangements.