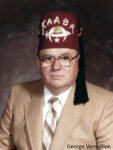 George L. Vermillion, Jr. 95, of Keokuk, IA, died Thursday, December 9, 2021 at the Iowa Methodist Medical Center in Des Moines, IA.
He was born on February 26, 1926 in Keokuk, the son of George L. Sr., and Gertrude E. Off Vermillion.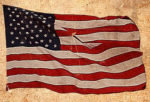 George left high school before his graduation to join the United States Army and proudly served his country during WW II.  His battalion was part of the battle and capture of the Ludendorff railroad bridge at Remagen which allowed the Allies to cross over to Germany.  He received several medals for his service, the WW II Victory Medal, European Theater Medal, Good Conduct Medal, Army Occupation Medal with Germany Bar and the Combat Infantry Badge.  George was awaiting the Purple Heart medal for injuries he received in battle.
 On June 8, 1954, George was united in marriage to Lil Buerklin in Quincy, IL.  She preceded him in death on August 12, 2021.
George was a member of the St. Paul United Church of Christ in Keokuk.  He was a very active member of the Masonic Lodge #29, the Kaaba Shrine and the York Rite.  He was also a member of the American Legion Post #41 in Keokuk and a former member of the Iowa Motor Truck Association.
He was a co-owner with his brother Sam of Vermillion Brother's Inc. trucking company in Keokuk.
George was a very kind man and never knew a stranger.  He looked forward to gathering with his friends and having daily coffee at various restaurants in town. George enjoyed driving and never needed a map on any of his travels.  Many memories were made on vacations that the family took together.
He is survived by his daughter, Peggy Vermillion of Keokuk, his son George L. Vermillion III and his wife Kancy of Nicolett. MN, four grandchildren, Adam Vermillion and his wife Sarah of Eldridge, IA, Christopher Vermillion and his wife Leslie of North Mankato, MN, Dan Workman and his wife Lacey of Donnellson, IA and Hailey Workman of Des Moines, seven great-grandchildren, Quinn Vermillion and Zach Vermillion both of North Mankato, Gracie Vermillion of Eldridge, Scarlett Young, Elora Young and Ender Young all of Eldridge and Wyatt Workman of Donnellson.  He is also survived by three sisters, Carol Laffey and her husband Paul "Bud" of West Point, IL, Gertie DeRosa and Dorothy Judd both of Hayden, Idaho, one brother, Clayton "Bucky" Vermillion and his wife Kathy of Keokuk and several nieces and nephews.
Besides his wife, he was also preceded in death by his grandparents, Sam, Sr. & Amy Vermillion and Wilimene and Charles Off who migrated to the U.S. from Germany, his parents, a daughter at birth, Elizabeth,  four brothers, Herby Vermillion in infancy, Jack Vermillion, who died in a tragic accident at age 9, Sam Vermillion and Gloyd "Sleepy" Vermillion and one sister in infancy, Mary Helen Vermillion and many brothers and sisters-in-law.
A Memorial service will be held at 1 p.m. Friday at the Vigen Memorial Home in Keokuk with Reverend Milo Van Veldhuizen officiating.  Burial with Military Rites will be in the Keokuk National Cemetery.
Visitation will be held Thursday after 1 p.m. at the Vigen Memorial Home in Keokuk with the family meeting with friends from 5 – 8 p.m.
A public Masonic Service will be held at 7:30 P.M. Thursday at the funeral home.
Memorials may be made to the Shriners Children's Hospital.      Online condolences may be sent to the family at www.vigenmemorialhome.com.