BY CHUCK VANDENBERG
PCC EDITOR
FORT MADISON - An Indianola woman charged with prostitution in 2017 after an investigation into the Avenue L Day Spa in Fort Madison is now facing similar charges in Mason City.
Yu Hong, 37, of Indianola, was wanted by Fort Madison police after a November 2016 undercover sting operation revealed sexual services were allegedly being offered at the salon as an extension to massage services.
According to Fort Madison Police Chief Tim Sittig, the business was shuttered in December of 2016.
According to court documents, an undercover officer went into the business to conduct a "sting" on the business and paid $40 for a 30-minute massage in which Hong was alleged to have offered herself up as part of the massage, and attempted to engage in sexual activities with the undercover officer.
Sittig said Friday the officer was not an officer with the Fort Madison Police Department, but was brought in from another area law enforcement agency. The complaint alleges that the undercover officer, after getting evidence outside of the business license, told Hong "No" and to stop, and then left the parlor.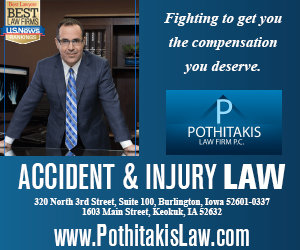 Sittig said the officer could have been in the parlor for the full 30 minutes, but didn't engage in sexual activity with Hong, contrary to other news reports.
"These are stings, and in a situation like this it may take 30 minutes to get the evidence we needed. But when she started to get feely he told her No... to stop, and then he got up and left the parlor. It was raided a short time later and we closed it down." Sittig said.
A warrant for Hong's arrest was put out after the criminal complaint was filed in June.
He said the investigation was done in conjunction with the Iowa Department of Criminal Investigation and investigators were also looking at a possible human trafficking link.
"We were hoping she was going to be able to help with that, but she kind of got into the wind and then ended up getting arrested in Mason City."
According to a story in the Mason City Globe Gazette, Hong was arrested in that city after a police investigation at a massage parlor called Asian Tuina turned up evidence of misdemeanor prostitution.
Hong was scheduled for a jury trial in Lee County on April 25, but a continuance has moved that trial to Aug. 1. She is currently out on $3,000 combined bonds in Lee and Cerro Gordo counties.