DONNELLSON - Earlier this month, Iowa Gov. Kim Reynolds turned down about $30 million in federal child care funds in a time when child care remains a top priority for state legislators.
But a growing program under the direction of the YMCA is bucking the trend in the otherwise dismal landscape of child care across the state.
Ryan Wilson, executive director of the Fort Madison YMCA, said the Early Learning Center and the YMCA Daycare, both in Donnellson, have expanded staffing and capacity and currently have spaces open.
The Early Learning Center accepts children 3 and up and includes pre-school and after-school activities for school-age children and then full-day preschool sessions for those 3 and up who don't yet attend school.
The maximum capacity for the Early Learning Center is 30 students at any one given time based on current staffing levels.
Anna Dobson, the centers' director, said the ratio right now is about 4 staffers per child.
The Day Care Center is for children 6 weeks to 3 months.
Currently the centers are funded completely with private pay and some stabilization grants that the center was able to obtain during the pandemic of about $72,000.
But Wilson said the centers are currently applying to be eligible for state Child Care Assistance reimbursements and food reimbursements to help offset some of the costs of providing the care.
The Early Learning Center is equipped with a full kitchen and classroom space.
Wilson said the biggest issue to date has been staffing, but he said that has improved this year.
"That was a huge issue. But we kept advertising and, as of Jan. 1 of last year, we raised the wages a couple bucks an hour. I don't think we have anyone here making less than $10. That's our starting rate," he said.
"Based on certification and responsibilities it goes up from there."
Dobson said the center is just now getting comfortable offering part-time positions to 16-year-olds per a new law passed last year allowing that age group to work in child care settings.
At a legislative function Monday in Burlington, State Rep. Martin Graber (R-Fort Madison) said he was a proponent of the move.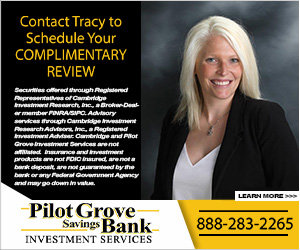 "How many of us didn't have a babysitter that was 16? Now there are people out there that are 25 that we wouldn't want watching our kids, but we had young babysitters."
Wilson said the centers went through a director change a year ago after a resignation and that culture change made staffing a challenge.
The YMCA took over ownership of the centers in March of 2020 during the pandemic and they have just one staffer who's stayed with them the whole time.
"The message we're trying to get out now is that we have room for more kids at both buildings," Wilson said.
"It's all based on staffing, but we're in a lot better place now than we were even six months ago."
Wilson said outside of the stabilization grants, which have not been extended yet, it's still tough to make the center's cash flow.
Dobson said there are currently 12 full and part-time staffers working the two YMCA centers in Donnellson. The YMCA also has programs for before and after school in Fort Madison coordinated with the Fort Madison school systems.
Wilson said they could add one or two additional staff right now to help increase capacity even further, but legislative changes could help make that even more doable.
Dobson said 90 percent of her time is spent with kids, but the other 10 percent is done doing bookwork, something she says is one of the biggest hurdles she faces right now.
Several days a week, if there are staff absences, she has to step in to hold the ratios.
"I like to maintain the 1 to 4 or 1 to 5 because it's easier to maintain that environment because to me child care is more than just keeping the buildings open for kids to have a place to go," Dobson said.
Reynold's decision to turn away from the $30 million in federal funding could have an impact locally on families' abilities to pay for child care, as well as child care providers staying financially healthy.
According to an article in the Des Moines Register, the governor's office indicated the loss of that money was the result of a deliberate decision to avoid having to commit $3 million in matching state funds toward child care.
But a Democratic state lawmaker says it's her understanding that Iowa's application for the $30 million in federal grants fell victim to the state's inability to review the paperwork and submit it on time.
"It makes no sense to throw this money away," said Sen. Claire Celsi, a Polk County Democrat, to the Register. "It's $30 million that we're talking about. … We really could have used that money."
The grant money can be used by states to coordinate early-childhood care and learning programs, and services that already exist and help children from low-income families enter kindergarten prepared and ready to succeed in school.