FORT MADISON - It was a journey full of meaning.
Nine weeks of reflection, joy, companionship and the angel of his wife Dianne, riding on his shoulders from Seattle to Boston.
Fort Madison's Bruce Huddleson made a decision last year to give himself a birthday present of riding his bicycle across the country and dedicating the trek to his wife of 38 years who died in February of 2021 due to complications from COVID.
Huddleson went with the Cycle America's Coast-to-Coast tour and wraps the event this Saturday in Massachusetts. He rode the Register's Annual Great Bicycle Ride Across Iowa (RAGBRAI) from 1977-1982 and then married Dianne in the summer of 1983.
"I dedicated this ride to her," Huddleson said in a phone interview with Pen City Current Saturday. Huddleson pulled off to the side of the road to talk about the trip. "I decided to give myself a birthday present for my 70th in January and make this journey."
The ride passes through 13 states, one Canadian province and takes 64 days to complete from June 18 to Aug. 20, covering 4,300 miles. The program schedules just eight days of rest and averages about 73 miles per day across the northern part of the country.
Huddleson said the terrain can be challenging, but he's only had to walk his touring bike twice in nine weeks.
"There's some pretty good challenges out here. I've got a slightly heavier back than most. There was on hill out of Everett, Washington where I hadn't shifted yet and came around this corner to this steep grade and I had to just get off and walk," he said. "But other than that only two other times have I had to get off to push it up a hill."
The ride has built friendships, while also allowing Huddleson time to reflect and enjoy the majesty of the United States from a completely different place. Typically he would get up earlier than the rest of the group and set out early.
"I'm usually about an hour or so ahead of everyone to start the morning, but the same group catches me a couple hours into the ride," he said. "They rib me a bit and say 'Hi" and then head on and we all meet up at the end of the day's ride."
People from all over the world participate in the ride with about a third of the group being female. Huddleson said the women riders are tremendous riders. One woman took the ride in the 90s and is now back making the trek with her daughter.
Another rider is a former Google employee who had stints with other multimedia corporations including, IBM, Facebook and Action Sports. Huddleson said the rider was part of the group that invented the yellow first down markers that are part of NFL football telecasts, as well as providing computer generated national flags in the ice during the winter olympics.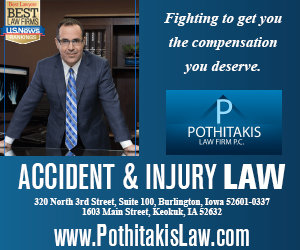 There's also a former Bosnian soldier who ended up working as a courier for the Olympics in Sarajevo in 1984. He has stayed in contact with such journalists as Peter Jennings, Christianne Amanpour, and Anderson Cooper.
"The Bosnian guy hit a drill bit on the road and it spun and went into his back tire through the tire, tube, and rim. He didn't wreck but there was literally a bike store just two blocks down that had a replacement part for his specialized bike. He was so damn lucky," Huddleson said.
But the Cycle America organization is very good at supporting the riders. Huddleson said he had to have a tire and rim replaced and they were able to do so within an hour and get him back on the road.
The trek costs a fee, but then Cycle America takes care of almost all the logistics including accomodations and food. At some points the riders will get a hotel room for a good night's sleep which is at their own cost or got on their own for a meal.
"They do all the logistics - where you stay, water stops, food," Huddleson said. "We stayed in schools, community centers, and you had the choice to either sleep inside or outside. We have a few nights were everyone camps out, but they arrange all that. They take great care of us."
Huddleson's bike is equipped with a milk crate that he keeps necessities in and a couple leather bags and side view mirror on the left side to monitor traffic coming up from behind. He rides with gloves, glasses and a helmet.
He said one of the nice parts of the ride is staying away from the news.
"We don't watch too much TV. We did watch some Little League Baseball when Iowa got to the World Series for the first time in 50 years," he said.
"There are some Brits on the ride who were following soccer and rugby. Then you'll get someone from Australia in the group and they pit against each other. It's fun when that gets going."
He said the weather has almost been perfect the entire trip.
"We've been kinda spoiled. We had a couple overcast days when we left Washington and we didn't see the ridges of the Cascades, but for the most part we've had maybe three hours total of riding in rain. It's just been beautiful with very little headwinds and mostly tailwinds - knock on wood.
"It really has been the experience of a lifetime."